Oklahoma Joe Offset Smokers are icons in the barbecue world. Known for their combination of simplicity and practicality, an Oklahoma Joe offset smoker can produce crowd pleasing meats for big groups.
But are these offset smokers as good as their reputation?
Oklahoma Joe makes three main offset smoker models: a vertical Bandera, the Highland, and the Longhorn. Each model has its own unique features that make it stand out from the rest. 
In this review, we're taking a deep dive into the Oklahoma Joe offset smoker. We'll be looking at our favorite models, and what defining features to look for if you decide to invest in an Oklahoma Joe offset grill. Read on to find out more.
About Oklahoma Joe Offset Smokers
The Oklahoma Joe Offset Smokers are some great products for offset smokers and charcoal grillers alike.
These smokers feature an innovative design that allows you to cook with indirect heat for a low and slow barbecue to pack in moisture and flavor.
The smoke chamber has been made big and durable, with an even flow of oxygen for consistent heat and smoke. 
Oklahoma Joe was started by barbecue legend Joe Davidson. He wanted a smoker that could pack in flavor, so he decided to design one himself.
The Oklahoma Joe brand is popular for its blend of innovation and solid fundamentals, creating reliable smokers that always produce tender and quality smoked meats.
Our Favorite Oklahoma Joe Offset Smokers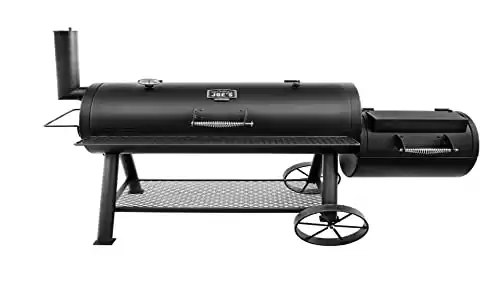 The Oklahoma Joe Longhorn Offset Smoker just looks like something you want to get your hands on. It's big, it's bold, and it's beautiful.
It's a good job the Longhorn offset smoker has such a massive cooking area, because you'll want to show it off to as many people as possible.
Let's start with that amazing cooking capacity. The Longhorn has a massive 751 square inches of primary cooking space, with an extra 309 square inches of secondary cooking space. That can hold an estimated 48 pounds of pork shoulder.
With your Longhorn Offset smoker, you can use the multiple adjustable dampers to create an even and regular amount of heat and smoke.
You can take control with the Longhorn, using it as a grill or a smoker, depending on your needs. The sturdy construction is built for durability, with an appealing design that doesn't sacrifice functionality.
What We Like About The Longhorn
The Longhorn Offset smoker is fun to use, with convenience and ease built into the design. It cleans up well afterwards, for added durability to an already sturdy build.
What We Don't Like About The Longhorn
Oklahoma Joe has created an impressive smoker with the Longhorn, and they've given it a price to match. While it's not as expensive as some high end offset smokers, it's not bargain bin pricing either.
Also available to purchase from OklahomaJoes.com.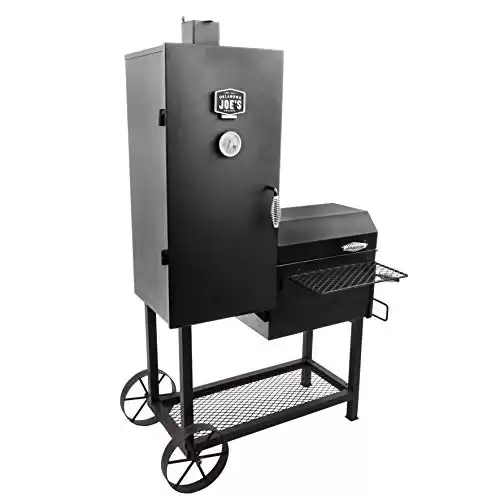 Whether the Bandera Vertical Offset smoker is Oklahoma Joe's best smoker is for you to decide, but it's certainly one of the best looking.
A beast of a smoker, the Bandera is a unique vertical design that enables a regular airflow across a giant cooking area.
It's a great option if you need to cook large amounts of food at once, or if you want to add some style to your yard.  With its sleek lines and attractive design, it's easy to see why this smoker is so popular.
It isn't just the look that makes the Bandera such a popular offset smoke. There are 1000 square inches of cooking space, spread across 5 cooking grates, with even heat and smoke across the smoker.
The Bandera comes with a few added extras to make it even more appealing. It includes a rib rack set, two meat hooks, and a water pan for added moisture.
When you're done cooking, the removable charcoal shelf and ash pan make for easy cleaning.
What We Like About The Bandera
The vertical design is excellent, providing users with a wealth of cooking space, and even heat and smoke. A sturdy finish completes a practical and cool smoker.
What We Don't Like About The Bandera
It can take a while to get to grips with the Bandera Vertical Offset Smoker, which is unlike anything else.
Also available to purchase from OklahomaJoes.com.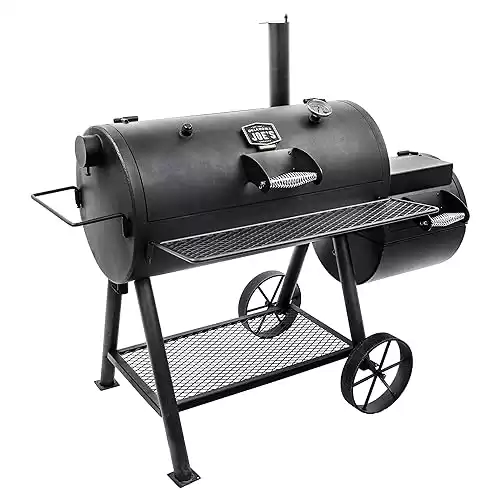 The Highland Reverse Flow Smoker from Oklahoma Joe looks like a serious piece of equipment. It's an adaptable and versatile beast, with a moveable smokestack that allows you to work as you please. 
The reverse flow offset smoker comes with optional smokestack locations, so you can have either traditional offset, or reverse offset smoking.
A reverse flow smoker is one of the most effective smokers around, blasting heat back towards the firebox for an even cook.
We love that the Highland Reverse Flow is so easily interchangeable, so you can grill your way.
A large charcoal basket gives the Highland Reverse Flow smoker a clean heat, with four baffles providing even smoke.
The large cooking area is impressive, while key features such as the removable ash bin and firebox access door make this durable grill easier to use than ever.
What We Like About The Highland
We love the adaptability of the design. The moveable smokestacks are so simple to use, and add an extra versatility. 
What We Don't Like About The Highland
The smoke can leak a bit. Also, the reverse offset smoker is significantly higher priced than the standard offset smoker.
Also available to purchase from OklahomaJoes.com.
Also Available From Oklahoma Joe
If you like the offset smokers, Oklahoma Joe has a couple more on offer.
Get that massive Longhorn Offset smoker in the reverse flow style, with a moveable smokestack.
Or, try the impressive Highland Offset Smoker. It doesn't have the reversible smokestack, but it does come at a much better price.
Don't fancy an offset smoker? Oklahoma Joe has you covered. The Longhorn style is also available in a combo charcoal/gas smoker and grill. There's also the Bronco Drum Smoker, and the Rambler Tabletop Charcoal Grill, for something a little more portable.
There are also some great accessories for the Oklahoma Joe range of outdoor kitchens.
What Makes Oklahoma Joe Smokers So Good?
Oklahoma Joe Offset Smokers are very popular, with plenty of avid customers. But what features do these offset smokers have that make them stand out?
The Size
The offset smokers from Oklahoma Joe are beasts. They're just massive. If you're the kind of grill master that likes to throw backyard get-togethers with all your friends and family, an offset smoker from Oklahoma Joe can ensure that no one goes hungry.
Of course, this massive size does come with its own downsides. For example, they take some effort to move.
Oklahoma Joe offset smokers come with large, wagon-style wheels, which look good and can help you move the smoker around. But it still won't go easy.
Storage can be difficult as well. If you want to tuck your smoker away in a small corner of the yard, don't choose an Oklahoma Joe Offset smoker.
But for all the disadvantages, it's still worth it to have the huge cooking area available. You can fulfill all your smoking dreams with an Oklahoma Joe Offset smoker (providing your dreams are smoking three briskets at once).
Reverse Or Offset
One of the stand-out features of the Oklahoma Joe offset smokers is that they can be bought with both offset and reverse flow.
Reverse flow gives a more even heat and smoke, allowing you a greater degree of control over your cooking.
Offset smokers give you the ability to cook food directly above the coals, giving you a hotter cooking surface.
This makes the offset smokers perfect for barbecuing or smoking ribs.
Even better, if you get a reverse flow smoker, you can smoke both offset and reverse flow. It's so easy to switch back and forth depending on what you're making, and it gives these smokers a huge amount of versatility.
The only downside to the reverse flow is the added cost. If you want the option of reverse flow, be prepared to pay extra.
The Baffles
Another feature that sets the Oklahoma Joe Offset Smokers apart is their baffles. These allow you to adjust the airflow through the smoker, ensuring that the temperature remains consistent throughout the entire cooking process.
You can use the baffle system to maintain smoke and heat, for a deliciously even finish. The baffles are locked under the wire grates.
Durability
The build of the Oklahoma Joe smokers is exceptional, with a durability that can keep you smoking for years to come. The steel construction ensures that the smoker will last almost forever.
It's also made to withstand heavy usage. The welded seams mean that there's nothing flimsy about the smoker.
Add your pork shoulders, briskets, chickens, baby back ribs, in whatever amount you can fit. Trust us, the Oklahoma Joe can take it.
Oklahoma Joe have created a series of offset smokers with an intelligent design. The cool-touch handles keep your hands safe, while an integrated bottom shelf makes for easy usage.
And as you cook, check on the professional temperature gauge to accurately monitor the temperature.
The best part? All these features are included in every model. So whether you want a simple offset smoker or something with more bells and whistles, you'll find everything you need in the Oklahoma Joe range.
Cleaning
No one wants to think about cleaning the smoker when they're in the middle of using it, but it is an unavoidable part of the barbecue process.
Thankfully, the Oklahoma Joe smoker makes cleaning easy. Or, at least, as easy as it can be.
Porcelain-coated wires are not only good for maintaining heat, but they also make the cleanup of ash and grease easier. A large charcoal basket also works to make cleaning easier and smoking better.
It's an efficient burn, with a movement that makes tending easy. And when you're done, pull out the basket, and clear up the ash.
And there's also a firebox door, so that's easy to clean as well.
Ease Of Use
These offset smokers are designed to work like any other smoker. They're easy to set up, and they're also fairly easy to use.
First time build might be the place that Oklahoma Joe falls slightly short – especially for the vertical smoker. Getting it all together can take some time and effort, especially as these are big smokers.
However, once you've got it set up, it's pretty straightforward. You just put meat in the cooker, close the lid, and get smoking.
How Does The Meat Turn Out?
Nothing else matters quite as much as this question – how does an Oklahoma Joe offset smoker treat your meat?
An honest opinion is that the Oklahoma Joe smoker can produce some delicious results. The efficient burn, easy control, and even smoke results in moist and tender meat, that's perfectly juicy.
We've tried chicken, pork, and beef in every way we can, and always been pleased with the outcome. As has everyone else who has had a chance to enjoy the massive amounts of meat we can smoke on the Oklahoma Joe Longhorn.
Final Thoughts
If you're looking for a quality offset smoker that won't break the bank, then look no further than the Oklahoma Joe.
These smokers are built to last, and they're built to do what they say on the tin. They smoke meat well, with tender and juicy results, and enough to serve entire families.
The Oklahoma Joe offset smokers are durable and impressive. You'll enjoy owning one, even if they do have a tendency to dominate the backyard.
Try the Bandera vertical offset smoker if you like space and individuality, a Longhorn if you want something with plenty of room, or a reverse flow to take control.