This content contains affiliate links.  If you make a purchase after clicking a link on this page, we might receive a commission at no cost to you.
The Weber Q series is known for its quality and durability. It is a line of up-market grills designed for home cooks who want to grill at their convenience. The Q series has been around since 1952 and continues to evolve. 
The new Weber Q1000 and Weber Q1200 models offer even better performance than their predecessors. In fact, they're both so good, it can be difficult to choose one over the other, but that's where we come in. 
We've done a deep dive on both of these Weber models in order to help you decide which is right for you. So, without further ado, let's get to it!
[toc]
Is Weber A Good Brand?
Weber is one of the most popular grill brands in the world. But does that mean it's a good brand, or do you have to buy a specific model or product to be satisfied with your purchase?
The short answer: yes, Weber is a fantastic brand! We've taken an extensive look at their products on our site, mostly Weber gas grills but some others as well.
What makes Weber products so great? Well, a couple of things, actually. 
Quality – Webers are built using only the highest quality materials. They are made to last, meaning that you can buy with confidence when you get a Weber. 
Durability – Webers are built to withstand the rigors of everyday use. You can cook on them all day long without worrying about damage.
Reliability – Webers are built by people who know what they are doing. They take pride in their work and will stand behind every product. They also usually come with a pretty long-lasting warranty, which is especially great if you are planning on getting a lot of use out of them!
Value – Webers are priced fairly. The quality is there, but not at an outrageous price.
Why Should I Buy A Weber Grill?
If you're looking for a durable, reliable grill that won't break the bank, then a Weber is a perfect choice.
A Weber is also a great option if you're looking to upgrade your current grill. It will offer more cooking space and features than most other grills on the market around a similar price point.
If you're looking for a grill that will make your backyard BBQ experience memorable, then a Weber is a must-have.
Whilst there are many benefits to buying a Weber grill,  it can be pretty overwhelming to decide which model to go for, especially as they are a relatively sizable investment. 
Weber Q1000 Vs Q1200: The Basics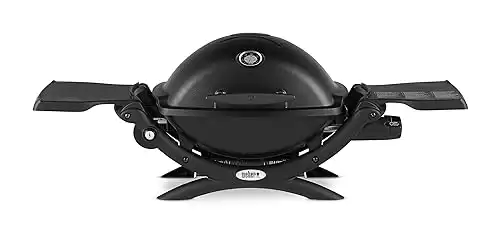 When you think of a Weber Q series, this is the image that comes to mind: the classical saucer-like shape.
The modern yet retro style is synonymous with low-effort barbecues and is always remembered (at least in my experience) as your dad's pride and joy. 
Since the Q series' inception in 1952, you'd think other bigger and better grills would have taken their place, but the cult of Weber fans remains strong, and for good reason!
Whilst the style remains the same, there have been a multitude of upgrades and improvements, and sometimes, nothing beats the portability of many of these dome-shaped beauties.
Whilst there are some options for electrical-powered barbecues in the Q series, the Q1000 and the Q1200 are both liquid propane powered.
They are also both portable grill models, so if you are looking for a gas grill that you can grab in a snap and get going, these are the models to go for.
The Q1000 and Q1200 are two new additions to the Q series line-up. They feature a larger cooking surface and a wider range of temperature settings. Both models also come with a built-in thermometer.
The Q1000 features an 18″ x 24″ stainless steel cooking surface, while the Q1200 comes in at 20″ x 26″. Both can reach temperatures up to 500°F.
Both models include a removable drip tray and a cover plate. The Q1000 includes a side shelf and the Q1200 has a center shelf.
The Q1000 model comes with a digital controller, while the Q1200 offers a dial control. Both models use a small propane tank as a source of fuel).
The Q1000 comes with a 10-year warranty, while the Q1200 has a 15-year warranty, and they both have porcelain-enameled cast-iron cooking grates. 
Which One Should You Buy?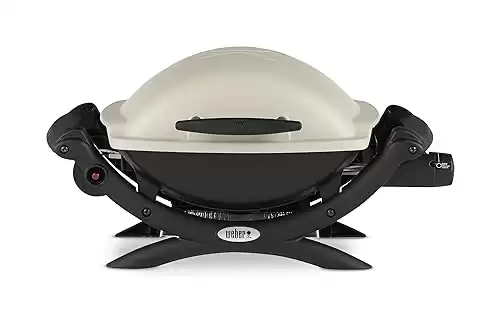 Weber Q1000 Liquid Propane Grill
One stainless steel burner produces 8500 BTU-per-hour to heat 189 square-inch total cooking area
Porcelain-enameled cast-iron cooking grates and cast aluminum lid and body
Fully assembled out of box. Dimensions - lid closed (inches): 14.5H x 27W x 16.5D inches
Push-button ignition and infinite control burner valve settings. Fuel type - Liquid Petroleum Gas (disposable cartridge sold separately)
Uses disposable 14.1 or 16.4 oz. LP cylinder (sold separately). Grill must be preheated with burner on high for 10 to 15 minutes
Check Price on Amazon
Check Price on Weber
If you're looking for a small portable grill, then the Q1000 may be right for you. It's easy to move around and won't take up much space.
If you need more room, the Q1200 will give you more cooking area and a wider range of heat. You'll also find it easier to clean because there aren't as many parts to deal with.
The Q1000 is great if you don't plan on using your grill often. It's compact and lightweight, so you can easily transport it from place to place.
The Q1200 is perfect for those who like to cook outside but also enjoy entertaining guests indoors. It's large enough to accommodate multiple people and still fits into most kitchens.
So how do you choose between the two? Let's start with some basics…
Size/Capacity
Both models offer the ability to add additional burners, which allows you to increase the size of your grill should you need to.
However, the Q1200 has a slightly larger capacity than the Q1000, which may appeal to those who like to entertain often.
Grill Grates
The Q1000 has a single grate, whereas the Q1200 has twin grates. Having 2 grates is useful when using charcoal, as it allows you to cook different foods at the same time.
Burner Type
Both models feature the classic 'twin burner' design, meaning that they have 2 burners that sit side by side. This makes for easy access and allows you to easily adjust the heat.
Ease Of Use
This is where the Q1200 really shines. You get a much easier way of controlling the temperature, thanks to its digital display.
You simply press a button to turn up or down the heat. In comparison, the Q1000 uses an analog dial to control the heat distribution, so you'll need to watch the numbers carefully to ensure you're not burning anything too hot.
Safety Features
Both models come complete with safety features such as auto shut-offs, flame retardant materials, and automatic ignition systems. The Q1200 also has a built-in ash catcher tray.
Longevity
As mentioned above, both models come with a lifetime warranty on parts and labor. So if something does happen, then you know you will be covered.
Bang For Your Buck
Overall, I think the Weber Q1200 is the winner here. It offers a slightly larger cooking area, a wider range of temperatures, and a digital display.
Although the price difference isn't huge, the extra features make it worth paying more.
Let's delve into some more detail. 
Weber Q1000 Specifications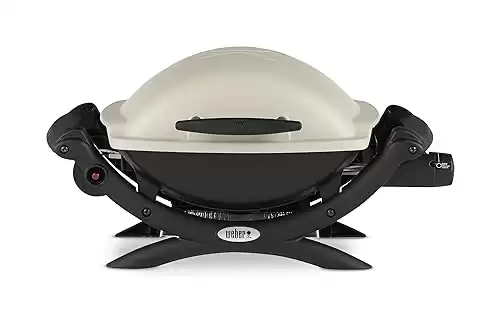 Pros
Reliable push-button ignition.
Good quality workmanship, as expected from a Weber Q series.
Easy to care for with few moving parts.
Solid cast iron grill.
Lightweight design and small footprint.
Easy to take with you.
Carry case and cover available.
Cons
Regulators inside will need to be primed with Weber products before first use for maximum efficiency.
Doesn't work too well with the standard 16.4 ounce gas canisters. 
Weber Q1200 Specifications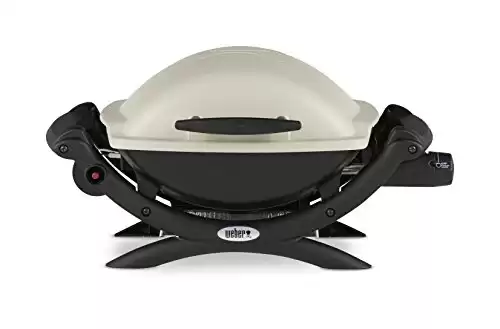 Note: You can check out our full Weber Q1200 review here!
Pros
Built-in drip tray for siphoning off grease and fat easily without any mess. 
Cast-aluminum lid and body.
Lightweight and durable construction, as you would expect from Weber. 
Higher aluminum lid, for larger amounts of grilling capabilities.
Quick-folding trays for more work space.
Fully detachable stand. 
Built-in thermometer and push-button ignition
Screen for hiding your gas canister.
Cast iron grilling surfaces.
6 different color options. 
Cons
Side tables take up a lot of room when fully folded out.
Struggles to maintain temperature when at a high elevation.
In terms of ease of cleaning, both these Webers are pretty much identical. As they are cast iron, they can easily be scrubbed down without risking the integrity of your grill in the long run. 
With a decent warranty, these are both great options to go for, and price-wise, the difference is pretty much negligible, though the Weber Q1200 is a bit more expensive.
This is totally fine, as you do get a bunch more features, but then again, perhaps you're not a bells and whistles kind of grill master.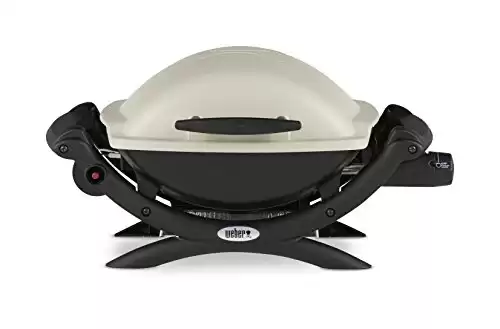 Weber Q1000 Liquid Propane Grill, Titanium
One stainless steel burner produces 8500 BTU-per-hour to heat 189 square-inch total cooking area. Dimensions - Lid Open and Tables Out (inches)-24.6 H x 40.9 W x 20.5 D. Lid Closed and Tables Out (inches)-15.5 H x 40.9 W x 16.5 D
Porcelain-enameled cast-iron cooking grates and cast aluminum lid and body
Fully assembled out of box. Battery type: AAA
Easy-start electronic ignition and infinite control burner valve settings
Uses disposable 14.1 or 16.4 oz LP cylinder (sold separately).Glass-reinforced nylon frame
Check Price on Amazon
Final Thoughts
It really depends on what you're going for, and what you value most in a grill setup. The Q1000 is a little smaller, so if you want a more compact design, you'd be better off with the 1000.
However, if you value the extra features and doodads that come with the Weber Q1200, that really is your best bet. 
It's got a whole host of cool features that add modernity to the classic Weber Q series, and you'd be hard-pressed to find a better grill within this price range. 
So what do you think? Which one would you go for? Have you got any tips for choosing between the two? Feel free to leave a comment below, we'd love to know your thoughts.
If you want to compare these to Weber's portable charcoal grills, head on over to our comparison of the Weber Jumbo Joe vs Go Anywhere!