This content contains affiliate links.  If you make a purchase after clicking a link on this page, we might receive a commission at no cost to you.
When it comes to all around versatility and performance, you'd be hard pressed to find a grill as solid as the Weber Q1200 Propane Grill.  With most tabletop and portable grills, you have to give up something to get the practicality of being able to take a grill on the go.
That's not necessarily the case with the Weber Q1200.  Weber designed this grill with the intention of providing an outdoor cooker that could easily be taken on the go, but without sacrificing quality or your ability to grill incredibly delicious foods.
In this article, we'll do a deep dive into this grill and provide our complete, unbiased Weber Q1200 review.  By the end you should have a really good idea of everything this grill has to offer and whether or not it's a great fit for you!
Weber – Quick Brand Overview
Before we get into the Weber Q1200 review, it's worth taking a moment to give you a little bit of background on the Weber brand.
They've been a staple in the grilling community for decades now.  In 1952 Weber's founder, George Stephen, invented the kettle grill, which at the time revolutionized the grilling game.  The buoy shaped design turned out to be a fantastic charcoal cooker, and a business was built around the success of the original kettle grill.
Over the ensuing years and decades to follow, Weber has been a leader in terms of innovation and progress in the outdoor cooking industry.  They manufacturer some of the best charcoal grills and gas grills on the market, and have recently ventured into the world of pellet grills with their SmokeFire Series.
Their products are known for quality.  One of the most common frustrations of buying cheaply made grills is that they leak heat or have hot spots, making it impossible to deliver consistently tasty food.  Weber prides themself on the construction process.  All of their grills are made from high quality, professional grade materials.
Weber also puts their money where their mouth is.  They consistently lap the field with their warranty protection.  All of their grills are covered by either a 10 year or 5 year warranty (the Q1200 has a 5 year warranty).  Either way, both of those time frames are far greater than what most other grill manufacturers offer.
To sum it up, Weber is a brand that you shouldn't be afraid to associate with.  They have a fantastic reputation and are known for quality, innovation, and great customer service.
Weber Q1200 Review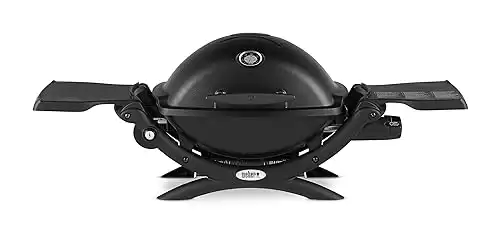 The Weber Q1200 Propane Gas Grill is one of Weber's most versatile cookers, and technically qualifies as both a portable and tabletop gas grill.  Most of the time with those types of grills, some sort of sacrifice has to be made in order to achieve the convenience of on the go grilling.
That's not necessarily the case with the Weber Q1200.  Performance wise, it has enough horsepower to handle most every grilling duty while also remaining compact enough to easily travel with.
It's powered by 1 pound liquid propane canisters, which fuel one high quality stainless steel circular shaped burner.  The burner is capable of producing 8,500 BTUs of heat output to comfortably heat the 189 square inch cooking area.  The cooking grates are made of porcelain enameled cast iron and are an ideal surface to grill on.  They do a fantastic job of retaining and distributing heat, and they are also quite easy to clean.
An easy start ignition and highly adjustable burner valves make setting up your fire and controlling your temperature easy and simple.  The lid hinges are extra smooth and easy to operate – all of these factors contribute to an overall ease of use of the Q1200 that rivals just about any grill.
Two side tables provide a generous amount of organization and work space for you to utilize while you grill.  Most portable grills don't have side tables so in that regard, the Weber Q1200 is superior.
With dimensions of 15.5 H x 40.9 W x 16.5 D and a weight of only 30 pounds, it's a bona fide portable grill.  You can easily take this cooker on the go with you to the campsite or your tailgate party.  When it's time to clean up, a built in grease management system helps for you to get the cleanup process over with in a jiffy.
When juices drip off of your meat, the grease management system naturally captures and funnels the grease down to a catch pan.  The pan sits underneath the cook box at a safe distance, and can be easily removed for cleaning when necessary.
All around, the Weber Q1200 is the exact grill you want to take with you in an on the go situation.  There's not much to dislike with this grill.  You're afforded the ability and quality of a full sized, freestanding grill but with the convenience of a portable grill.  And if you're into styling up your grill, it's offered in a handful of different traditional and fun colors!
Things We Like
Powerful stainless steel burner and cast iron cooking grate translate to excellent cooking abilities
Compact footprint and lightweight design are easy to take on the go
Lid and body are made of high quality cast aluminum and do a fantastic job of retaining heat
189 square inches of cooking surface area is generous for a portable grill
Two side tables provide lots of extra organization and serving space
Built in grease management system eliminates lots of clean up hassle
Easy start ignition, highly adjustable burner valve, and smooth lid hinges
Comes in lots of different fun colors
Covered by a 5 year warranty
Things We Don't
Might sound nit-picky, but the one burner setup means you are limited to one temperature zone cooking
No locking lid, which we'd like to see on a portable grill.  You can still carry it around easily but it just requires 2 hands.
Weber Q1200 Specifications
Here are the specs on the Weber Q1200:
Main Burners: 8,500 BTUs
Burner Type: Stainless Steel
Dimensions: 15.5″H X 40.9″W X 16.5″D (lid closed and tables out), 24.6″H X 40.9″W X 20.5″D (lid open and tables out)
Cooking Surface Area: 189 square inches
Fuel Type: Liquid Propane (1 lb cylinders)
Grates: Porcelain enameled cast iron
Warranty: 5 years (cook box surface, lid, burners, grates, plastic), 2 years (all remaining parts)
Add-Ons
One of the best things about Weber is that for all of their grills, they offer a robust selection of add on accessories to elevate your base unit.  The Weber Q1200 is no different, with great add ons offered including:
Premium tool set
Griddle cooking surface
Portable cart (to convert to freestanding grill)
Premium grill cover
More Resources to Check Out
Here are a few other resources worth checking out if you're considering the Weber Q1200.  We've done extensive reviews on other portable grills and Weber grills here:
And for all of my visual learners out there, here's a great video showcasing the cooking ability of the Weber Q1200.
Weber Q1200 Review – Final Thoughts
I hope this Weber Q1200 review has helped to clear up your search for the right grill for you!  It's a great on the go grill, with powerful burners and other features built to set you up for success.
At the end of the day, it's a fantastic situational grill made by a quality brand.  Price wise, it's not going to break the bank either!
Did you end up getting the Q1200?  How do you like it?  We'd love to hear about it in the comments section below!