This content contains affiliate links.  If you make a purchase after clicking a link on this page, we might receive a commission at no cost to you.
Whether get togethers are pre-planned, or spur of the moment events, it's always good to have a grill that can be taken with you on the go!
It should come as no surprise that some grills are better than others when it comes to tailgating. There are a few different things you should keep in mind when selecting.
That's what this guide is for: To help you find the best grills that you can use at a tailgating near, or far away, from you!
What Is Tailgating?
Just to get the uninitiated up to speed, Tailgating is when you and your friends meet at one location and then go to another place together to eat, drink, and catch up with people.
Tailgating can take place pretty much anywhere, from a park or stadium, to the beach or even in someone's backyard.
If you're planning on grilling at a tailgating, you require a grill that can be easily moved by one or two people and can cook enough food to satisfy a reasonably large amount of people.
Best Grills for Tailgating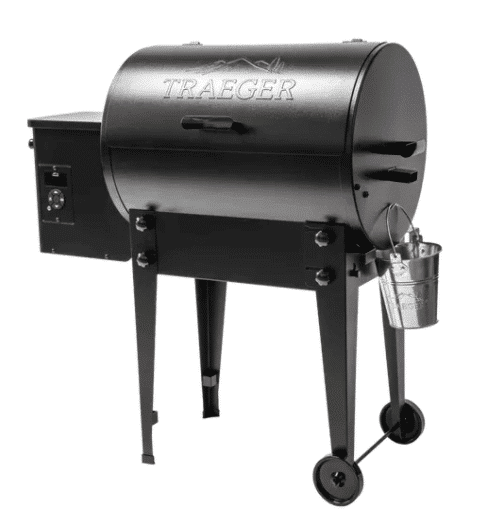 Traeger has been around since 1985, so they have a little experience when it comes to making a good grill. For the tailgating market, they have come up with a very impressive portable pellet grill design for those on-the-fly cook-out parties that we love about summer!
With its digital controller for excellent temperature control, the Tailgater lets you adjust the heat output up to 450 degrees Fahrenheit.
This means you can sear your steaks or chops to perfection while keeping them warm and juicy throughout. When it comes to grilling, it is tough to compete with results like this.
You can also use the Tailgater to cook low and slow – while it's probably too small to fit a whole brisket, you could fit a pork butt or other popular meats for BBQ.
And if you ever run out of pellets, simply load another box into the hopper, and it's ready to go again. Plus, the Tailgater weighs surprisingly little too, making it easy to transport and set up, perfect for cookouts on the move.
Pros
Great temperature consistency – Not only does this grill get hot, reaching temperatures of well over 400 degrees Fahrenheit, but it stays hot too. A grill that can't keep up the heat is almost as bad as having no grill at all, so this is an excellent quality feature the Tailgater has.
Easily cleanable – All the interior sections of this grill can be easily removed and cleaned after being used. Great for keeping your grill in top condition, and to avoid grease and fat buildup in this cooking tool.
A portable tailgating grill – Being able to move your grill for your tailgating cookouts is essential, so the collapsible legs of this unit are an exceptional feature for taking your gill outs wherever you go.
Cons
Awkward legs – Whilst the legs are amazingly stable once folded out correctly, it can be a little awkward to set this grill up and to collapse it back into a more movable form, especially if you are setting it up on your own.
Hefty load – At 62 pounds, you're probably going to struggle moving this heavy-duty grill around on your own.
Relatively small fuel capacity – With the hopper for this grill only able to take about 8 pounds of pellet fuel at a time, you'll probably have to refuel after just a few hours. For a whole-day cookout, that's not exactly ideal.
Our Thoughts
With this grill eating up fuel pretty quickly, it pays to be able to use whatever you have access to. If you're looking for a portable grill with reasonable grilling capacity, this is a great model.
Looking for a tailgating grill that can do it all, from being moved from your backyard to the back of your truck, taking it to your cookout spot, and cooking up a huge grill when you get there, you can't go wrong with the road trip portable stand-up grill from Coleman.
Coleman RoadTrip's grill has been designed with ease of use in mind to give you the best possible outdoor cooking experience.
This portable, compact and lightweight stand-up grill comes with a durable aluminum handle and foldable legs for storage, so you don't have to worry about dragging it around everywhere you take it.
And thanks to its folding legs, it takes up less space in your vehicle than a conventional stand-up grill. It has three adjustable burners and a large grill surface.
It uses a standard 1 pound propane tank, though you will have to source this for yourself, as the grill does not come with one as standard.
Pros
Excellent Burner quality – With as much as 20,000 BTUs of grilling power at your disposal, the adjustable burners that come as standard for this iron-cast grill give you all the power and heat that you need to make the best grill out possible!
Easy to move and transport – Mobility is key for a great tailgate grill, so the collapsible legs and wheels on the Coleman RoadTrip make transporting a breeze.
Cons
Iron grates are hard to maintain – Cleaning the Coleman RoadTrip grill is going to be a hassle if you don't tend to it shortly after it is used. Plus, the cast-iron grill may tend to rust if not looked after properly between uses, so make sure that you keep an eye out for any signs of wear and tear between uses.
Wheels used aren't the highest quality – The wheels probably aren't built for all-terrain purposes, so be careful where you are pulling it when it is folded up.
Lid-locking mechanism not ideal – The lock that keeps the lid of this grill from bouncing around works fine at first but seems to show signs of wear after repeated uses. You may have to fashion a way to keep the lid shut as you are transporting it after a while.
Our Thoughts
Whether this grill is for camping or cooking in your or someone else's backyard, the Coleman RoadTrip grill feels like it can cover pretty much every grilling situation, including being the main workhorse of an amazing tailgating party. 
The mobility of the design certainly helps in giving it the versatility that this grill is known for. Small wonder that this propane grill is a favorite of many campers and grillers across the country.
It took about 45 minutes to get it set up and running, which is not too long, all things considered. Once the heat was up, it got the job done without any problems. Overall, this is a tailgating grill that should be high on your options list when it comes time to buy a commercial grill.
Looking to be a part of a tailgating grill out, but worried that you don't have the budget to bring a high-quality grill to your summer party?
Well, if this is the case, and money is a concern for you when looking for your cooking kit, then Weber's 10020 Smokey Joe is exactly the grill you need to cook with the best of them.
Weber Smokey Joe grills are designed to be used anywhere, anytime. They are compact, lightweight, durable, and built to withstand the elements. With this model of charcoal grill, you can enjoy outdoor dining without having to sacrifice style and convenience.
They're easy to use and maintain. Simply fill the water pan with water and add charcoal briquettes. Then place the grill on the grate and light the fire.
When you're ready to cook, flip the lid open and place food on the grill. It takes just seconds to get started. And when it's time to eat, close the lid and enjoy!
Pros
Great lightweight design – Despite what the bulbous design of the lid might suggest, this tailgate grill is very lightweight and easy to move around. Not just that, but the tripod leg setup means that it will be more than stable enough for any party out the back of your truck. The porcelain-enameled lid and body will also stop rust from creeping into this little grill, keeping it good to cook for years to come.
Excellent starting price – In the range that this model is normally found, this is probably one of the least expensive grills you can take to your tailgate parties, without sacrificing quality in any noticeable way.
Adjustable temperature and airflow – This is a great feature that even some higher-end tailgate grills don't have, so to see it appear on a model of this price range is amazing. This will allow you to be able to heat up or cool down your fire pit with ease, to get that perfect charred texture on your hot dogs and burgers.
Cons
A smaller grill, maybe not appropriate for the big gatherings – Although it can cook a respectable amount of food in one go, with 147 square inches of cooking space, it simply doesn't have the volume or surface area to compete with other larger models in this guide. For this price, this is still a great amount to be able to cook. And at those massive parties, every little grill helps feed everyone!
Height is not adjustable – The legs cannot be extended or shortened to your needs, so you will likely have to sit over this grill while you cook your food, rather than stand.
Our Thoughts
We were able to get this grill set up quickly, and it works great, especially for smaller outdoor grills and parties you might be attending.
The workload might not be the largest in this competitive market, but it was more than enough to cook several burgers at one time, and they came out perfectly cooked.
It's great that it is compact enough to fit into pretty much any car trunk, even if the shape does make it a little awkward. It has such a small footprint that, if smoke wasn't an issue, you could probably use this grill indoors as well as outside.
If you're looking to help with a tailgating grill out on a budget, this is a good option to consider.
Looking for a grill that won't take up too much room in your trunk? Then Cuisinart has you covered with the Petit Gourmet CGG-180T.
Cuisinart are masters of cooking and kitchenware, and their entrance into the tailgate grill market brings that expertise with it.
This portable gas grill is one of those propane grill models that are perfect for smaller spaces where you might be holding your tailgate party, whether that's in someone's smaller backyard, or in a clearing where cooking space is at a premium. 
Its size makes it easy to transport and use anywhere. With a total cooking surface of 145 square inches, it's big enough to feed a pretty sizable crowd without having to do much work. 
The grill comes with a convenient carrying handle and an integrated lid lock so you can keep the lid securely closed while using the grill.
Even better, the sturdy aluminum legs fold flat when not in use, becoming a perfect briefcase shape to be carried around with one hand. All these features make this grill ideal for camping trips, picnics, barbecues, and, of course, tailgating.
Pros
Lightweight, and easy to carry – With the grill only weighing less than 14 pounds, and a small collapsible body that can be carried with just one hand like a suitcase, this is a brilliant compact grill that can be taken pretty much anywhere you go.
A surprising amount of grill space available – for something as small and compact as this, being able to fit upwards of 6 or 7 steaks at a time is very impressive!
Cons
The lid-locking mechanism may start to fail over time – Being made out of plastic on a grill that can reach incredibly high internal temperatures feels like a strange design quirk for a mechanism that is supposed to keep the lid shut tightly. Especially when the lid handle is located on the lid. Make sure to avoid closing the lid if the heat is at high temperatures.
Our Thoughts
This is a great piece of outdoor cooking equipment to have if you don't have the space for a larger grill. It's perfect for camping, picnics, tailgates, etc. We use it often for barbecues during the summer months.
It's easy to use, easy to clean, and cooks fast! Whilst it will probably never carry the heavyweight of any large gathering, this is certainly a great tool for if you are at a small outdoor party, or you need an extra grill to support your buddy who's underestimated just how many people are looking for a good grill out!
We would recommend this option for anyone looking for a portable and affordable grill that won't break the bank and wants to be able to cook in pretty much any space that's wider than 20 inches.
Weber is at it again with another excellent grill, this time in the form of the Q2200 propane gas grill.
Whilst all the grills we have discussed are exceptional pieces of a griller's toolkit, a few of them have been on the smaller size.
That's not the case with the Q2200, however. This model is a heavy grill that will be the centerpiece of grilling wherever you are parked, whether that's in the backyard or an open field.
The Weber Q220 is one of the largest full-size grills in its class. With the stainless steel burner putting out 12,000 BTUs per hour and porcelain-enamel coated, cast-iron cooking racks, this grill is sure to give you years of worry-free operation. 
Two folding work tables help keep food warm during transport, and the electronic ignition system makes starting the grill easy and fast.
Pros
A big grill – Square inch cooking surface won't be an issue with this grill, at 280 inches for your grilling needs. This is the sort of barbecue grill you need for a larger gathering whilst you're tailgating.
Fold-out accessory trays – These are a must for being able to manage your massive grilling workload!
Cons
A bigger grill means a heavier load – At almost 43 pounds, this is one of the heavier models of grills that we have covered, especially with no wheels to help move that weight around. This is definitely on the heavier side of what is considered 'portable'.
Our Thoughts
Honestly, there isn't much else to say about Weber Q2200 that can emphasize just how great this grill is for large gatherings on the move.
It's easy to use, easy to clean, easy to store, easy to set up, and if you have an extra pair of hands to help you move it, not too difficult to move from your trunk to your tailgating site.
When it comes to both portability and cooking area in an easy-to-transport package, it'll be tough to beat the cube grill by Everdure.
This little piece of barbecuing kit is the ultimate portable medium-sized grill. It has been designed keeping in mind all the needs of the modern-day traveler. It weighs less than 20 pounds and is compact enough to fit easily inside even the back of your car, much less the back of your truck.
Portable, compact, durable, easy to clean, safe, convenient, and affordable; the Everdure Cube portable barbecue grill is just what you require for outdoor cooking. It features a 115 square inch cooking area, a sturdy steel frame, and a built-in stainless steel grate.
Perfect for those smaller grill parties with your family and closest friends.
Pros
Amazing heat retention for its size – It can be harder for smaller grills to maintain the heat necessary to keep cooking for long periods. So it's incredible how hot this grill can get, as well as staying at that heat whilst cooking all your tailgating snacks!
Easy to handle – The intelligent design of this grill, with its handle, its compact frame, and its heat shielding, means that this grill is very easy to handle for a single person, whether that's for carrying out of the truck, or being put back into storage after being used.
Great accessories – Thanks to its design, this portable charcoal grill comes equipped with both a food storage tray and a preparation tray that are stored seamlessly and beautifully into the grill. That way, you always have your cooking station ready!
Cons
Too good at retaining heat – The heat shielding this grill has might work a little too well! It can take a long time for the ashes of your charcoal to cool down after using it, which can mean waiting a long time for this grill to become safe to handle. And whilst the handles are heat-resistant for touching whilst it is on, we wouldn't recommend carrying hot ashes around!
Out Thoughts
Never underestimate the user-friendliness of an easy to assemble grill! It's pretty much ideal for any grilling scenario, whether that's camping, tailgating, or even at home.
We would recommend this to anyone looking for a medium-sized grill that is easy to clean and suitable for pretty much any smaller-scale cookout. Though, you should probably look for other models if you know it's going to be a big party.
Choosing a Great Tailgating Grill
When looking for a tailgating grill, there's a lot to consider. If you're still not sure what things you need to be on the lookout for in your grill of choice, here are a couple of features you should consider:
Portability
One of the most important considerations when choosing a tailgating grill is portability. You want something that you can easily move from place to place without having to spend hours setting it up and tearing it down every single time.
There are many different types of portable grills available. The simplest way to get portability is to look for a grill that has foldaway legs. These allow you to simply unfold them as needed, so they don't take up much room when folded away.
Wheels are another popular option, as it takes less effort to haul larger weight if you can pull it with you. Carryable grills are a popular option too, but they tend to be smaller a lot of the time.
Cooking Capacity
Right behind portability, cooking capacity is one of the most important features a grill needs. It doesn't matter how portable you are if you can't cook enough food to feed everyone!
A good rule of thumb is to make sure that you can comfortably fit 4 people's food items on the grill at once.
You may find yourself wanting more than this depending on the size of your group, but 4 people's worth of food is a good guideline to follow and can be scaled up from there if there are more people.
Fuel Type
Depending on where you're going to be using your grill, you will need to choose a fuel type. Charcoal grills are usually easier to handle and maintain, though gas grills tend to offer superior performance, as they usually take less time to warm up. 
The other main options are electric grills and pellet grills – both of which are easy to use but come with their own limitations.
Frequently Asked Questions
Can I use My Tailgating Grill At Home?
Absolutely! That is one of the joys of having a tailgating grill. It's that it can be used anywhere! We've seen folks use their tailgating grills while camping, hiking, as well as at home!
Final Thoughts
As you can see, there's plenty of variety when it comes to grills for tailgating. There are all kinds of different styles and sizes, and each one offers unique benefits.
If you're looking to buy a new grill for tailgating, we'd suggest taking a look around and seeing which ones suit your needs best.
Looking for inspiration of what to cook at your next tailgate? Check out our list of grilling ideas for your next cookout!