This content contains affiliate links.  If you make a purchase after clicking a link on this page, we might receive a commission at no cost to you.
It's estimated that 75% of American adults own a grill, and out of that number, 63% happily get the grill fired up all year-round. At these numbers, it's safe to say that grilling isn't just a way to cook here in the U.S, it's a way of life. 
To make sure you're armed with a string of new and exciting ideas come grilling season, we've featured a varied selection of grilled meat and vegetable recipes for your perusing and soon-to-be eating pleasure. 
Whether you're looking to feed the family on game day or impress that special someone with a gourmet meal for two, now is the time to get grill-ready and grill-inspired.
We've rounded up some of the best grilling recipes on the internet along with some of our own to inspire your next cookout!
Our Favorite Grilling Ideas for Inspiration
This grilled chicken is the ideal meal for when summer's in full swing and eating outside isn't just an option, it's a must. The Kentucky-style marinade features a fiery lineup of hot pepper sauce, Worcestershire sauce, cider vinegar, canola oil, and salt. 
The trick of this recipe is to marinade the bone-in chicken breast halves for four hours prior to grilling, but remember to save about half the mighty marinade for basting purposes. This is lean, mean Kentucky chicken cuisine that tastes oh, so delicious after 40 minutes or so on the grill. 
Grilled cabbage may sound like an absurd idea to real-deal meat-eaters, but cabbage actually holds its own on the grill. Cut into ½"-thick rounds, these grilled cabbage steaks are a chewy, fleshy blank canvas that comes ready to top with all kinds of delicious bites. 
This recipe calls for bacon, blue cheese, and ranch dressing, but you can add whatever you very well please to make this recipe veggie or vegan. Grill for 10-15 minutes until the cabbage is nice and tenderized on both sides, then top, and serve, it really is that simple. 
This grilled salad idea is a great way to use up the romaine lettuce that's been hiding out at the back of the fridge for too many days now. Super simple to put together, this romaine Caesar presents as summer on a plate to impress your guests. 
Just two minutes either side on the grill and these romaine lettuce leaves will gather a subtle smokiness while maintaining that all-important crunch. Caesar dressing, pickled onions, and breadcrumbs are all you need to turn this grilled lettuce into something irresistibly fresh and effortlessly unique. 
A herby turkey burger and poblano peppers char-grilled to perfection and served with chimichurri mayo, yeah, you could say this gets the motor running.
A trick with this recipe is to make sure the grill is nice and greased to avoid the homemade pattie getting a little too friendly with the grill grates. And be sure to cook your turkey burgers all the way through!
Also, if you're looking to reduce your carb content then wrap all this grilled goodness up and into fresh lettuce leaves instead.
There aren't too many things sweeter in life than grilled chicken wings. The ideal candidate for grilling on game day, a family BBQ, a twilight soirée, whichever way you come at these wings, they don't disappoint.
Grilled in a spice rub, and served alongside a zingy dipping sauce, the writing is on the wall with these crispy-skinned chicken delights, and it reads a finger-licking good time. 
If you've got the time, try brining your wings beforehand – which will bring out even more flavor out of any grilled wing recipe!
If there was ever a tailor-made vegetable for grilling, eggplant would be it. Tender, smoky, and downright delicious, char-grilled eggplant is the answer to your vegetarian grilling prayers.
The eggplant has been paired perfectly with a garden vegetable, feta, chickpea, and cucumber Greek relish that's tossed through a simple sherry vinaigrette to give it a bitey edge. Served over a plate of creamy polenta, this is a healthy and filling grilled meal that is sure to become a go-to for veggies everywhere. 
Take a delicious trip to the Mediterranean seaside by these grilled flatbreads with burrata cheese and grilled cherry tomatoes. If you've never made your own flatbreads, don't worry, as they are one of the easiest bread types to make, taking just 15 minutes to knead into a doughy perfection.
Leaning on just a handful of high-quality ingredients and a good helping of olive oil, this warming recipe gets to the very heart of what makes the Mediterranean cooking such an inspired style of cuisine – simplicity.
Serve on a clear sky summer's day with a glass of dry rosé close by and you'll know what all the fuss is about. 
Depending on the style of your grill grates, it may be worth using a pizza stone for this recipe!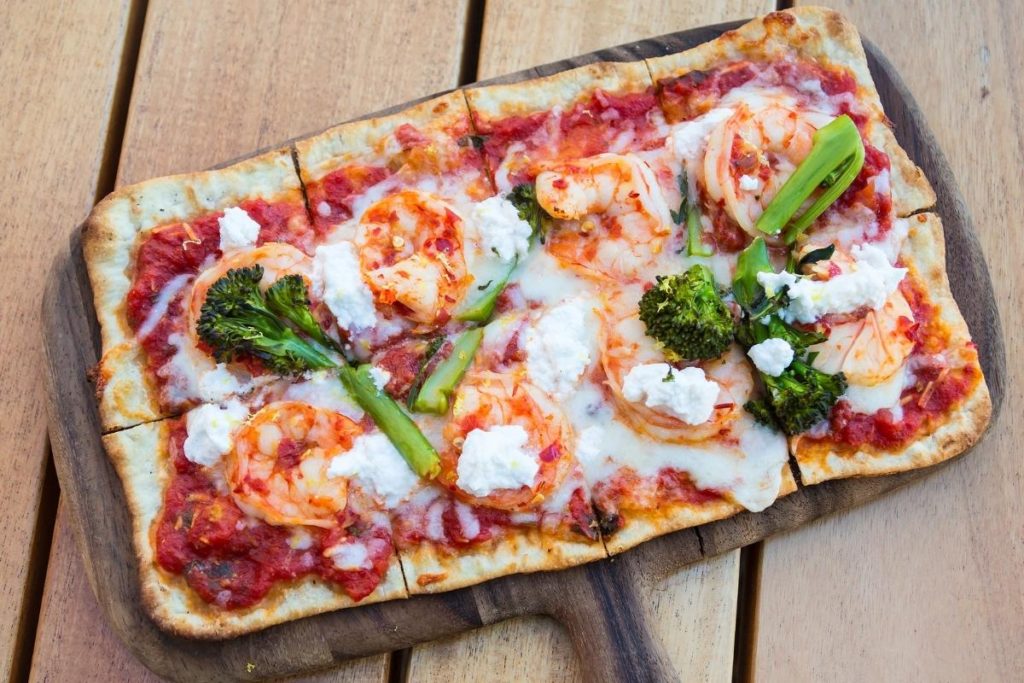 Acting as a meat tenderizer, it is the soy sauce's acidity that's key to this grilled pork chop success. In Asian cooking, it's no secret that honey, soy, and pork get along very well, and this recipe champions this perfect trifecta. 
The recipe has resisted the urge to be complicated, mixing the two aforementioned sauces with garlic and red pepper flakes for the marinade and that is it.
Let the marinade-soaked chops sit for at least 30 minutes and up to two hours in the fridge before whipping them out and slapping them on the flaming hot grill to your guest's instant praise.
If you've ever had the pleasure to walk down a lively Mexican street lined with roadside grills, then you have probably had your fair share of grilled corn. Grilled corn should be a sticky, messy affair that leaves you with bits in your teeth and a wide-open smile to show them off. 
Take the corn out of its husk, soak each piece in water then lather them in parsley-infused butter before wrapping them back up in their husks, Stick to this simple but essential method and you're going to be treated to the sweetest, juiciest grilled corn this side of Tijuana. 
Grilled shrimp is delicious at the best of times, but when it gets cosy with spicy sriracha slaw and slotted into a char-grilled tortilla, it turns into a completely different thing. This grilled shrimp taco recipe is one of the special ones and should be stored away in a safe place until taco Tuesday is upon us.
The juice of three limes and cilantro have also been called upon to elevate these tacos to the tangiest of heights. Not that we are saying it's a must, but wash them down with a crisp Cerveza and next Tuesday might just be the best one yet. 
Keeping with the taco night theme, we've got a real meaty treat to knock the socks off anyone who's on the hunt for a grilled steak idea.
Grilled steak sliced thin and generously portioned into a grilled tortilla with a good helping of homemade chimichurri, Pico de Gallo salsa, pickled onions, and a couple of grilled scallions is as iconic as it sounds.
Sure, this may not be the quickest of taco recipes to knock together, but its authenticity makes the journey worth it. It's also a great way to utilize some prized beef cuts like picanha or classics like skirt steak or flank steak. 
Grilled atop a water-soaked plank of cedarwood, this melt-in-your-mouth, crispy-skinned salmon has a uniquely smoky profile to taste. Lather the fleshy side of the salmon with a sweet and punchy mix of grainy mustard, pure maple syrup, minced rosemary, and grated lemon zest. 
Once the salmon has been left to soak through for 15 minutes it's officially grilling time. If you don't have a plank of cedar at hand, but this bounty of flavors has caught your attention, then this recipe has a simple step-by-step guide of how to grill the salmon over indirect heat too. 
The salty, savory wonder that is satay is a national dish of Indonesia and one of the most widely consumed meals throughout all of Southeast Asia. Satay-smothered grilled chicken skewers are a delicious pick-up-and-go grilling idea to serve when people are on the move and mingling. 
Prepare a honking plate of these satay skewers for any event where the grill has been called upon to feed the masses and they will step up to the plate every time.
This is not an ordinary, run-of-the-mill satay recipe either, using ingredients like ground turmeric, lemongrass, lime juice, and fresh cilantro, this grilled skewer recipe has been given a delightfully vibrant color and taste. 
One of the all-time happy accidents of life is that asparagus season just so happens to kick off at precisely the same time that grilling season does, and this is a very good thing.
Once you come to know that this recipe calls on a homemade balsamic glaze to give its asparagus a sticky, syrupy edge to outshine the rest, you have officially been put on notice.
Ditch the regular asparagus routine and make this side dish a priority next time the grill gets fired up to really understand why the hype surrounding asparagus is so very justified. Serve alongside a summery selection of grilled vegetables, or your favorite cut of steak, either way, this recipe is an instant classic. 
Scallops are a great seafood dish to serve your guests because their ease-to-wow-factor ratio is through the roof.
For anyone who enjoys their seafood, fresh scallops are one of the most impressive shell-encrusted mollusks to be served and soon after devoured. This recipe uses a bunch of pungent herbs and spices to give it a dry rub to remember. 
Delicious things like chipotle chilli powder, ground coriander, ground fennel, pasilla chiles, dried oregano, and thyme come together to create the most delicious skewer of scallops you ever did taste. Served over creamed corn, this is one grilling idea that you and your taste buds won't be forgetting in a hurry.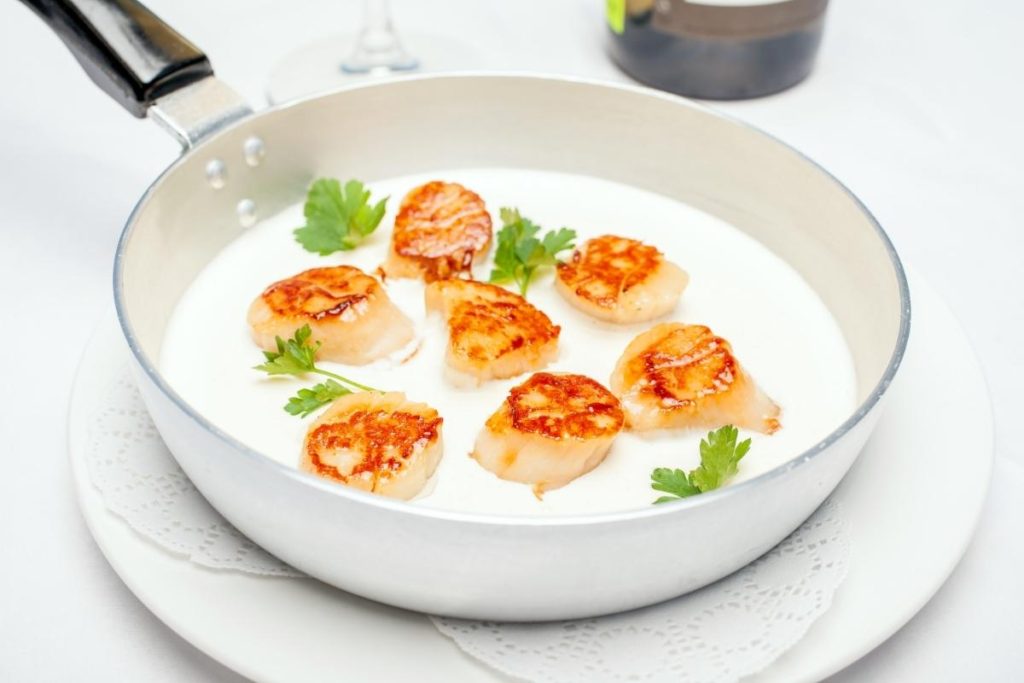 Also known as European Sea Bass, Branzino is a popular and flavorsome fish of Italian, Greek, and Portuguese cuisines. If you can't source Branzino, then another white-flesh fish like cod, haddock, or snapper will work well as a substitute in this recipe. 
Grilled with herbs and lemon tucked into its cavity, then prepared with a serving of preserved lemon gremolata on top, this whole Branzino will be your new favorite fish dish for when the sun is shining, and the weather is sweet. 
It's no secret that broccoli has had a bit of a rough past. Being boiled and steamed into soggy submission and served as a meat and two veg dinner more times than it cares to count. But broccoli is so much better than that, and this grilled recipe proves it.
Plus, it's a great way to eat reasonably healthy on the grill. 
Championing the broccoli as the powerhouse vegetable that it was always meant to be, this grilling idea will have every family member eager to eat their greens.
Worcestershire, soy, ketchup, honey, red pepper flakes, and ground pepper are worked through the broccoli prior to going on the grill. The key to this broccoli is to make sure it doesn't get overcooked by turning it every two minutes and promptly getting it off once knife-tender. 
Sprinkle freshly grated parmesan, extra red pepper flakes and serve with a few lemon wedges and wait for a standing ovation from the family – once they've finished eating of course. 
This 3-ingredient salad may just be the easiest dinner idea in the history of grilling. Whoever said salad bags were cheating had clearly never had a busy family, on a tight schedule, with hungry stomachs that need feeding.
A shop-bought Asian salad bag, pork tenderloins, and hoisin sauce are all you need to create this fresh and fabulous meal.
If you're feeling really committed you could always add bell peppers, black sesame seeds, and chopped almonds to the salad to give it an extra bit of nutty crunch. But, that's only if you can be bothered, as this dish still works wonders without the trimmings. 
A sucker for a fresh and fabulous Caprese salad? This grilled steak topped with everything deliciously Caprese is a one-way ticket to Tuscan heaven. Try to source four 6oz filet mignon steaks to be as authentic as possible, but sirloin works pretty well too. 
The next step is the marinade, and the balsamic, garlic, honey, olive oil, thyme, and oregano help to give these steaks a sweet and tangy taste that is perfectly complemented by the Caprese-inspired toppings. Beefsteak tomato, melted mozzarella, and fresh basil, the lineup is purposefully uncomplicated, and simply Caprese. 
Preparing an army of these gourmet beef sliders on Super Bowl Sunday will keep the team satisfied through thick, thin, and hopefully a win. Homemade mini beef patties, fresh and lemony sun-dried tomato mayo, spicy pickles, and peppery rocket are sandwiched between sesame-topped mini brioche buns to create a thing of grilled beauty. 
The recipe calls for enough beef to make 10 sliders, but we believe that's being a little stingy, and think it's clever to air on the side of caution to double-down and make 20 sliders – they will go!
As a result of their meaty, savory texture, king trumpet mushrooms are prime-time for grilling and should be acquired whenever, wherever possible.
If you can't source some king trumpets, then crimini mushrooms will provide a similar profile for the grill. Another way that this open-face mushroom sandwich looks to stand out from the regular sandwich crowd is the Pecorino salsa verde. 
Pecorino Romano is a hard and salty Italian cheese that, when shaved through the salsa verde, offers this gourmet toast plenty of punch. Served as an appetizer to an Italian-inspired feast, this open-face mushroom delight is so much more than just toast. 
Turning the dial down on the gourmet side of grilling, these spiral hot dogs are a fun way to turn something old into something new. Not that there's anything wrong with a classic hot dog, but this spiral twist will have the kids and big kids at heart enjoying mealtime in a whole new way. 
Using a paring knife you will need to slowly slice each hot dog while turning them to create the perfect spiral.
However, before you go testing your steady hand and knife skills, make sure you slide a wooden skewer through each hot dog to help safeguard yourself from slicing too far and out the other side. 
Sticky chilli-rubbed ribs are your new go-to crowd-pleasing recipe for the summer. Combining the spiced dry-rub of the ribs with soy, brown sugar, ketchup, and lemon juice glaze is as genius as it sounds.
These Asian-inspired ribs will have you ditching your overworked barbeque ribs recipe, and be the fiery place that you turn to when the grill is calling. 
If this grilled chicken sandwich is anything to go by, the folk down in Sante Fe sure do know how to eat, and eat well at that! Taking just 15 minutes to prep, and 30 to cook, this grilled sandwich can be convincingly eaten for breakfast, lunch, or dinner. 
That's right, we said it, loaded with avocado, melted Pepper Jack cheese, onion, bell pepper, homemade chilli-herb mayo, and grilled chicken breast – this righteous sandwich can be eaten whenever you want very well, please.
To turn the bread all golden and glorious, remember to douse the bread in olive oil prior to grilling. A perfect grilled sandwich to cure any and every hangover and set your day straight. 
Gaining sweetness from cinnamon and allspice, and fire from jalapeño and green onion, this authentic Caribbean Jerk marinade comes ready to work through a sky-high pile of bone-in chicken drumsticks and thighs. 
There's just something so right about firing up the grill to slap jerk chicken down onto it. That's how they do it in the Caribbean and that's how you should do it too. Make sure you get the chicken skin nice and charred to give it that legitimate roadside grill edge.
Although this may seem like more of a sticky mess than it's worth, trust us, these grilled hatch chile cheeseburgers will take you to a place that only the most perfect food can.
Melted Pepper Jack, hatch peppers, griled yellow onion, verde salsa, and a thick and juicy homemade beef patty sandwiched between two toasted buns is about as good as it gets. 
Use a knife and fork if you don't want to make a mess, or get down and dirty with your hands if you're really feeling it. Either way, you come at it, this New Mexico themed take on a beef burger is designer-made for those long summer days that stretch into long summer nights. 
Grilled Ranch Potatoes
Sure mashed, baked, and broiled potatoes are nice and all. But, the day you forget all that you've come to know about cooking potatoes and choose to whack them on the grill, will be the first day of the rest of your life. 
This grilled baby potato recipe takes just 5 minutes to prepare and 20 to cook, and when served with a homemade ranch sauce, will slot right into a table full of food. Garnish with chives to give them an extra freshness and crunch if desired.
Not that they need them though, as their crispy roasted skin, will be all the crunch, you will ever need, from a potato, ever again. 
Final Thoughts
We may be a little biased on the subject, but surely grilling is the finest way to cook food, period. Maybe it's an instinctual and ancestral thing from a time when fire reigned supreme, but there's something about cooking food on an open grill that hits differently.
We hope this article has given you some new and inspiring grilling ideas that can be called upon next grilling season, all season long.