This content contains affiliate links.  If you make a purchase after clicking a link on this page, we might receive a commission at no cost to you.
It's been said that griddles are good for one thing above all else – and that's feeding people fast.
That's why they're the cooking surface of choice for many home and professional chefs alike.  Not only can you cook food fast for a lot of people, but you can get some darn delicious results too.
When it comes to flat top griddles, one of the products that's always at the top of the conversation is the Camp Chef flat-top grill.  In fact, it's one of the most popular and best-selling grills, regardless of type.
In this article, we're going to do a deep dive into the Camp Chef flat top grill.  We'll go over all of the features that make this product great in a complete product review.  From there, we'll get into some tips and ideas for getting the most out of your Camp Chef flat-top grill.
A Brief History of Camp Chef
Camp Chef has a pretty neat history.  Their founder, Ty Measom is an avid outdoorsman and found himself disappointed with the amount and quality of outdoor cooking equipment available on the market.
So in 1990, he developed a design for an outdoor burner stove that completely blew the competition out of the water.  Campers, tailgaters, and other adventurers raved about the simple and durable design.  From there, a company and movement was born and Camp Chef really hasn't looked back.
They continue to be a leader in innovation in the outdoor cooking space and have expanded their product line to include flat top grills, pellet grills, and cast iron cooking pieces like skillets and Dutch ovens.  Just look at the features that come with their Woodwind pellet grills for an idea of how well they innovate.
The ethos of Camp Chef is to create products that are practical, high performance, and meant for the outdoors.  In terms of quality, you aren't going to find many brands that keep up with Camp Chef.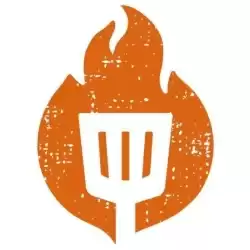 The Camp Chef Flat Top Grill actually comes in a few different sizes, but for now, we're going to focus on their most popular size which is a 4-burner grill.  It's fueled by a propane gas connection and has a cooking surface that measures 31″ wide and 20.5″ deep, which totals 604 square inches of cooking surface area.
One of the great features of this grill is that the cooking surface is actually interchangeable.  This means you can seamlessly switch back and forth between traditional grill grates and a griddle cooking surface depending on what your current needs are.  The grill grates will achieve beautiful grill marks on your food, and the griddle surface is ideal for breakfast, veggies, burgers, and many other meats.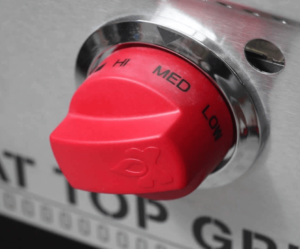 For cooking power, each of the 4 gas burners is capable of producing an output of 12,000 BTUs/hr.  A heat dispersing design ensures that there are no hot spots on your cooking surface – which is a common pain point associated with other gas and flat top grills.  The burners also ignite with a quick ignition system that gets you going with the press of a button.
Depending on your weather and wind levels, the burners can support a temperature range of about 225-500°F.  It definitely can get hot enough to sear steaks, and you can also keep it lower for more finesse to make griddle pancakes or something that doesn't require as much heat.
There are a few other design features that are set up to make your life easier.  The cart includes a propane holder, which neatly houses your propane tank on your grill.  There's also a dual shelf open cart design that gives you plenty of space to store accessories or extra work room while you cook.  On top of that, built in rolling wheels make transport and moving the unit around quite easy.
Foldable side shelves are on either side of the cooking surface and are quite spacious.  These are great to have and come in super handy to help you organize your cook.
One of the most often overlooked aspects of any grill purchase is cleaning features.  But when it's time to clean your flat top grill, I promise you'll be thankful for any features that make the process easier.  For the Camp Chef flat top grill, there are a couple of really nice clean-up features built in.
The grease management and cleanup system consists of a grease tray, a catch bucket, and micro adjust griddle levers that are all there to easily funnel grease into one collection area.  When the grease bucket gets full, you remove and dispose of the grease.  It's as simple as that!
Camp Chef also offers a 1 year warranty on their flat top grill series.  To be totally honest, that's a little less of a coverage period than some other brands in the industry.  But with that being said, the quality of the Camp Chef flat top grill is so great that the warranty rarely needs to be used.
Things We Like:
Interchangeable flat top grill and griddle surface provide maximum versatility on your cooker.
Up to 604 square inches of cooking surface area to utilize, which can feed a small army on a flat top.
4 stainless steel burners have 12,000 BTUs/hr output capacity and provide incredibly consistent and uniform heat.
Very reasonable price – as far as value for your money goes it's hard to beat a Camp Chef flat top grill.
Built in wheels are heavy-duty and make transportation much easier.
Foldable side shelves and grease management system are both fantastic features that contribute to the overall ease of use of this product.
The quick ignition system lets you get fired up in seconds.
Things We Don't:
This might sound nitpicky but we'd like to see a longer coverage period on the warranty.  1 year is just shorter than some other brands – but the counter to that argument is that Camp Chef flat top grills are so high in quality that the warranty rarely comes into play.
We mentioned earlier that the Camp Chef comes 6-Burner Flat Top Grill.  Essentially, all of the features are identical with the difference coming in the amount of burners and product dimensions.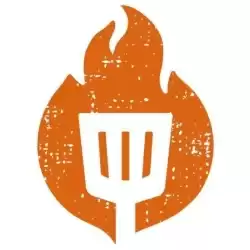 Getting the Most Out of Your Camp Chef Flat Top Grill
Thankfully, these grills are super straightforward to use, but even so, there are a few tips we like to give out so that you can get the most out of your cooker.
First is to learn how to season and clean your flat top.  Seasoning is the process by which you lock in a protective, nonstick coat of oil that gets bonded into your griddle surface.  Some professional chefs even season their griddle every day – you don't need to do it that often, but it's a good idea to do it from time to time to ensure you get the best performance and flavor out of your grill.
Second, you should pay attention to the oil you use when cooking on your flat top grill.  We've gone into a detailed post on this topic on the best oil for your griddle.  You'll want to use the ones most suited for griddle cooking, especially if you plan to cook at high temperatures.
Last but not least, don't be afraid to experiment and have fun.  The beauty of of the Camp Chef flat top grill is how versatile it is.  Try cooking different foods with different methods.  Make a pancake and bacon breakfast one day and a steak dinner the next.  Almost anything is possible on these cookers.
Final Thoughts
I hope this dive into the Camp Chef flat top grill has been beneficial for you, especially if you were on the fence as to whether you want to get one or not.
At the end of the day, it's a quality product from a trusted and respected brand and as many users will attest – it can make some incredibly good food and memories.