If you have been looking for a new pellet grill for your outdoor living area, you have probably come across the names Z Grills and Camp Chef. They are some of the best-known companies in the business with an incredible selection of grills to choose from.
In this article, you will get an extensive overview of Z Grills vs Camp Chef – that's both brands as well as the features and capabilities that the grills will give you. We will also discuss the best-sellers from both grill brands to help you choose which one might be best for you.
No matter what grill you choose to buy, you will be sure you get a quality grill with everything you need to make the best meals for your friends and family.
Z Grills Brand Overview
Z Grills have been around since 2016. Even though they haven't been around for a long time, they quickly made a name for themselves. They offer mostly pellet grills with affordable pricing and top brand quality.
Although the grills have only been around for a few years, the Z Grills manufacturing team has over 30 years of experience with over 600 engineers, designers, craftsmen, and researchers – many of their designers used to work for another extremely popular pellet grill brand.
Their manufacturing and grilling experience will ensure you have the best wood-fired results. The premium materials and the affordable pricing make these grills able to be in every home and every outdoor area.
The grills are meant for new grillers as well as those who are professional or have years have experience. Most people searching for grills know that pellet grills are some of the fastest-growing grills in the industry because they produce better flavor and are much more convenient than gas.
All the Z Grills have a consistent and steady way to measure the temperature which allows you to cook like a real pro with very minimal effort. Overall, these grills have everything you could ask for and more.
Camp Chef Brand Overview
The official Camp Chef brand started in 1990. Camp Chef initially sought to create high quality campfire stoves that could be taken on the go.  Since then, they've expanded their product line quite a bit and in particular focus on pellet grills nowadays.
Over time, Camp Chef has led the way when it comes to innovation in the pellet grill market.  Their products seem to always be pushing the limits of what you can do on an outdoor cooker, whether it's a pizza oven attachment, a power side burner, or a flat top griddle insert to increase the capabilities of your pellet grill.
Z Grills vs Camp Chef – Side By Side Comparison
Temperature Range
The Z Grills have a temperature range of 180 to 450 degrees Fahrenheit. Camp Chef pellet grills can cook between 160 degrees Fahrenheit and 500 degrees Fahrenheit. This one is pretty straightforward – Camp Chef has the edge when it comes to temperature range, although you can still grill and smoke just about anything on a Z Grill.
Grill Features
When it comes to extra features, Z Grills are traditionally simple – they have everything you'd expect, like a one button ignition startup and a digital controller on all the grills which make it easy to maintain a consistent and steady temperature.  With that being said, they recently released one WiFi enabled model that allows for your to manage your grill remotely.
Camp Chef on the other hand is known for their features.  Most of their units connect a phone app via WiFi where you can manage all aspects of your cook remotely.  They come with probe meat thermometers built-in to the grill, and their sidekick attachment (with a power burner) allows you to attach a pizza oven, sear station, or griddle right there on your grill.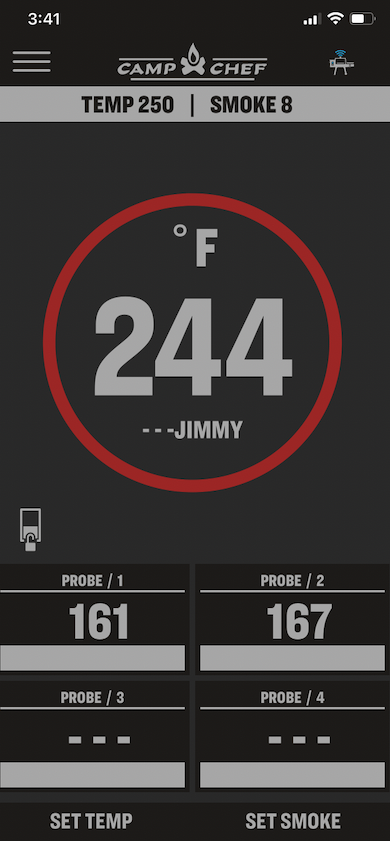 So if you're looking for extra features to enhance your cooking experience, Camp Chef is the way to go.
Hopper Capacity
Most Z Grills have a 20-pound hopper capacity. This is slightly smaller than the Camp Chef grills. 20 pounds is more than enough to get you through most grill and smoking sessions though.
Most of the hopper pellet grills from Camp Chef have a 22-pound hopper capacity. This should be more than enough to make sure you are never running low while grilling and smoking. Some of the smaller pellet grills have a smaller hopper capacity, but they are still big enough to make sure you have all the pellets you need to keep the smoking again until you're finished.
Price
When it comes to a Z Grills vs Camp Chef price comparison, your dollar will go further with Z Grills, especially if you aren't so concerned with extra bells and whistles.  If you look at similarly sized grills (in terms of cooking surface area), Z Grills are almost always a couple hundred bucks cheaper than Camp Chef Pellet Grills.
Warranty
All the Z Grills have a basic three-year warranty for every part. Keep in mind this is only if you have been using the grill as intended and have been taking proper care of it.
Camp Chef pellet grills have a No-Hassle warranty that lasts from three years of your purchase date. The warranty is only valid if you use the grill carefully and make sure you take all the steps for a clean and safe operation. Some of the grill parts only have a one-year warranty though so make sure to check the guidelines when you are buying the grill.
Z Grills vs Camp Chef – Overall Winner
The overall winner to the Z Grills vs Camp Chef comparison really depends on what kind of grill you want to need for your cooking and smoking needs, and what kind of budget you're working with.
If you are purely looking to pick up a cooker to grill and smoke meat, and you want a high quality option that provides excellent bang for your buck – Z Grills is the way to go.
Camp Chef is the better option though if you aren't necessarily on a budget and/or you would get use out of their technology and extra attachments.
Z Grills vs Camp Chef Grill Reviews
Now that you have an overall idea of how the brands compare to one another, let's look to see how individual grills stack up. You might already have an idea of which grill brand you want to go with but knowing how the individual grills compare will help you pick the perfect one for your outdoor living area or patio.
The Camp Chef Woodwind WiFi is one of the best versatile grills on the market. It's meant to make good food and help you up to your smoking game. With the WIFI controller, you can change the temperature, set timers, and even get notifications right to your phone when the meat reaches the desired temperature that you set.
This grill also comes with the patented Ash Kickin' Cleanout system which allows you to clean up quickly and efficiently. Some of the main features to keep in mind are:
PID controller for consistent temperatures
Cord Management System
Grease Management System
50mm legs made with heavy-duty steel
Protective controller cover
Stainless steel firebox
Bottom utility shelf for storage
Direct flame technology can reach 650 degrees Fahrenheit
160-degree Fahrenheit and to 500-degree Fahrenheit range
Pellet hopper cleanout/purge
Adjustable smoke settings from a scale of 1-10
Four stainless steel meat probes
Compatible with the camp chef app for remote and WIFI controlling
Full-screen color controller
The PID controller combined with the smoke control is some of the best innovative features that come with this grill. The PID controller helps to control the smoke and temperature even if you open the lid.
As the smoke number increases, your smoke output will increase. If the smoke number is decreasing, then the temperatures will maintain an optimal level even tighter. Overall, you get a well-controlled smoker and grill.
With this grill, you can add on almost every accessory available from Camp Chef. Many people choose to add on the 28,000 BTU side burner so that they can warm up side dishes or sauces as they cook up their main meal on the grill and smoker.
This grill comes in three different sizes including 20, 24, 36 inches. The grill comes with a firepot and a sturdy and durable 304 stainless steel lid. One of the main cons is that the main parts of the grill are made from powder-coated steel rather than 304 stainless steel. Most users don't have negative experiences with flaking or degradation despite it not being stainless steel throughout.
You will want to buy a cover for it. The porcelain coating makes it much more likely to rust or receive damage, unlike stainless steel grills. The good news is that the grill comes with a 3-year warranty if you happen to get any damage or problems. You should still make sure you take the best care of it possible though.
Camp Chef offers its own wood pellets. Buying from this brand can ensure you get good quality 100% hardwood that's additive-free. They are on the more expensive side compared to other types of wood pellets, but the extra cost is worth it.
The hopper on this grill holds 22 pounds of pellets which should be more than wrong enough to get you through a slow and long smoke. The hexagonal shape of the grate allows the pellets to flow through the grate easily. Running out of wood pellets make the cooking stop, so you always want to make sure you refeed the grill, so you're not stuck restarting it when you want to refill it.
The best part of this grill is that it has 800 square inches of cooking space where you can make several different heat zones. This means you can cook many different things at one time including salmon, chorizo, oysters, or steak.
No matter what you're cooking, you will get even and thorough smoking every time. This grill is sure to make you the most popular chef in the neighborhood. People might even be asking you to grill and cook for their next party or event with friends.
The Z Grills 700E is moderately priced and might be the best choice if you are looking to not spend too much money. Here are some of the main features to keep in mind before you buy:
180-to-450-degree Fahrenheit temperature range
Pellet hopper with one shelf
Includes storage cabinet
Stainless Steel
3-year warranty
20-pound pellet hopper capacity
694 square inches of space to cook on
The main feature that makes the grill amazing to use is the split upper rack system. You can easily remove the racks you're not using so they won't be in the way. The grill is made out of stainless steel, but remember that this is a budget smoker, so you will see some smoke leaking out of the sides and it might not retain heat well if you're opening the lid often.
This grill doesn't have WIFI like some of the other Z grills on the market. Not a huge deal but having WIFI and remote control from an app might be important to some people. Overall, though, this grill is a good size and extremely easy to use. If you're new to grilling, this can be an amazing addition to your outdoor living area.
All the switches are pretty basic and all you need to get started is to switch the controller to smoke mode while the lid is open. Since the grill doesn't have direct searing options and won't let give your steak sear marks, you will probably use smoking as your main option for cooking your meat or other foods.
You can also grill on the smoker if you don't want to always slow smoke meat. Overall, this grill has a good build with a tight fit that allows you to smoke and grill meat to perfection. The drop drain is easy to clean and you can also easily clean out the pellet dust quickly with a small vacuum.
Z Grills offers more grills of this size – if you want to check them out then head over to our Z Grills 700 series review next!
The SmokePro from Camp Chef has been around for a while – and for good reason.
The grill is compatible with all of the sidekick accessories including a pizza oven, a griddle, and a Dutch oven. You can add anything you want to this grill to make it unique and to give it all the features you need to make a fully equipped outdoor kitchen.
The newly designed grill has some amazing added features including folding side shelves, folding legs, and built-in leg levelers. The latter allows you to make sure your grill is always on an even surface and won't rock back and forth.
If you want to see the SmokePro and the Woodwind series side by side, check out our comparison of Camp Chef Woodwind vs SmokePro pellet grills next.
This is another amazing grill by Z Grills – the 550B comes from their budget series but provides plenty of quality. It has auto temperature control and will give all the meat you cook a wood-fired smoky flavor. You also get 553 square inches of cooking space which is perfect for grilling for small parties or a family event.
The grill has 8-in-1 cooking with a large temperature range of 180 degrees Fahrenheit to 450 degrees Fahrenheit. This means you can do virtually anything to the meat including chargrilling, grilling, searing, roasting, baking, braising, and slow smoking.
The PID auto controller allows you to set your desired temperature and come later when it's reached. This means you don't have to sit around and look at the meat the entire time you cook. This is one of the most desired pellets grill features and you get it all with the Z Grills 550.
The hopper has a 10-pound hopper capacity. If you are cooking small meals, this should be more than enough to keep you going through the entire cooking procedure. The grill also has a built-in wood shelf. This allows you to cook and prepare in the same space which means you don't need to dirty up your indoor kitchen or use your outdoor prep area if you don't want to.
The bottom shelf also gives you a place to keep the wood pellets easily on and in case you need more as you grill and smoke.
The 553 square inches of cooking space is enough for 22 hamburgers, three chickens, or four racks of ribs. This is an amazing size for family events or grilling for the neighborhood. The wood-fired flavor will also be something your fans will be ready to come back for and try any time.
The wood pellets that you use in the grill will generate and smoke and add the infusion of their flavor into the meat. This isn't something you can get from a normal grill.
The convection cooking is also an amazing added feature. It makes for extremely even heat distribution. This ensures your food is evenly cooked and you also won't get any flare-ups as you grill.
The grill isn't anything fancy to look at, but the aesthetics are modern and stylish. It will blend in with your outdoor living area and give the whole patio a sleek feel.
Keep in mind this grill works best with the Z grill wood pellets, which can be pretty expensive. You can go with a cheaper brand, but the flavor profile and the quality won't be as good.
This grill is one of the more expensive options from Z grills. Luckily, Z Grills often runs promotions that can help you afford it easier.
This grill comes with the standard 3-year warranty and has amazing durability and craftsmanship.
Final Thoughts on Z Grills vs Camp Chef
Camp Chef and Z grills easily have some of the best grills on the market. No matter what you're looking for in a grill, there is bound to be one from one of these grill brands to give you everything you need for smoking and grilling.