Camp Chef is one of the most popular grilling brands, and their two flagship product lines are the SmokePro pellet grills and the Woodwind WiFi pellet grills.
At first glance, it might be difficult to tell the difference between the two, but there are a few subtle and a few not so subtle differences that might make you want one over the other.
In this article, we take a look at the Camp Chef Woodwind WiFi vs SmokePro pellet grills from top to bottom.  By the end, you should have a much better idea of which one is the best fit for you and your outdoor kitchen.
Camp Chef Brand From a High Level
Camp Chef has a pretty cool brand history.  They were founded in 1990 when founder Ty Measom, who was and is an avid outdoorsman, grew frustrated with the lack of quantity and quality outdoor cooking equipment available.
This frustration led to the invention of essentially the first high performance camp stove to ever hit the market.  It was powerful, lightweight, and capable of making some delicious food.
The commercial success of the camp stove led to Camp Chef developing into a powerhouse in the outdoor cooking industry.  Today they are a top of the line producer of camp cooking equipment, flat top grills, and most definitely pellet grills.
Nowadays, their pellet grills all pretty much fall under their SmokePro series or their Woodwind WiFi series.  We'll get into the details below, but essentially the SmokePro pellet grills are a more entry level priced option whereas the Woodwind pellet grills are a little more expensive but absolutely loaded with features.
Camp Chef SmokePro Pellet Grills
A Camp Chef SmokePro is a pellet grill that is designed for grilling, roasting, smoking, and barbecuing. What makes the SmokePro different from other pellet grills on the market is that it provides all of the base features you want in a grill at a fantastic quality, offered at a reasonable price.
The other thing to quickly bear in mind is that the SmokePro line can further be broken down into SG, DLX, and XT style grills.  Here's the quick rundown on each of these
SmokePro SG – most high end, newer models have WiFi capability, most expensive
SmokePro DLX – "medium" quality, lots of features, most popular, slightly more expensive than XT
SmokePro XT – bare bones (but still good), entry level price point
Here we're going to talk about the SmokePro DLX in depth, which is the most popular choice on the SmokePro line of grills.
Camp Chef SmokePro – A Closer Look
One of the best Camp Chef pellet grills without a doubt is the Camp Chef SmokePro DLX. This grill stands out among other Camp Chef options because it is easy to use, fully automated, and equipped for superior performance. Here are some features of the grill:
Most notably, the SmokePro DLX is built with excellent quality. It is specifically designed to be used outdoors, which ensures that the grill will last outside over a long period of time.
The reason that the SmokePro DLX has great quality is that it is designed with a heavy metal construction, specifically stainless steel. Altogether, this Camp Chef grill weighs 140 lbs. As a result, the DLX is one of the most durable on the market.
Another reason that this grill stands out is that it has a lot more cooking space than other options. It has 429 square inches of cooking space in the lower rack and 141 on an upper rack (570 sq in total), which will allow you to really maximize your cooking efforts. The grill also comes with shelves, a sear box, utility racks, and free cooking recipes.
The SmokePro DLX Wood Pellet Grill further maximizes your cooking abilities by incorporating a hopper drain shoot into the model. This feature will allow you to change your smoking flavor on the go, allowing you to create better-tasting food depending on your mood.
Additionally, the SmokePro SG Wood Pellet Grill Smoker is safe and easy to use. It includes a control panel where you can fire up your grill with the press of a button. It also comes with an automatic shutoff that ensures that the grill will be shut down once the cooking process is finished.
Furthermore, the unit includes a temperature control and an ash clean out system. These features make the grill much more enjoyable and user-friendly overall with less time you have to spend on maintenance.
Finally, the SmokePro DLX Wood Pellet Grill comes with a three year warranty.
All around, you're going to have a really hard time finding a similarly priced pellet grill that's this high of a quality and comes with as many features.
Pros
Quality
Hopper drain chute
A lot of cooking space
Automatic shut off
SmokePro BBQ Sear Box
Temperature control
Auto start ignition
Ash cleanout system
One year warranty
Easy to use
Cons
Pretty heavy at 140 pounds
Final Verdict
Overall, the SmokePro DLX is a leading Camp Chef grill. It includes a number of features that make your grilling experience more enjoyable and user-friendly.
Other SmokePro Models
Here are some other Camp Chef SmokePro models to look at:
SmokePro SGX WIFI Pellet Grill
SmokePro DLX 24 Pellet Grill
SmokePro XT 24 Pellet Grill
Camp Chef Woodwind Pellet Grills
After that rave review, you might be wondering why it's even worth mentioning a second series of grill.  After all, the SmokePro clearly has it going on.
The answer is that the Woodwind WiFi pellet grills take things even a step or two further.  All of the quality construction and features from the SmokePro carry over plus some extras that really take Woodwind grills over the top.  Plus, this line of grills comes with considerably more cooking surface area.
I should add that I own a Camp Chef Woodwind WiFi 24 pellet grill, so I can personally attest to how good this thing is.
Camp Chef Woodwind WiFi 24 Pellet Grill – A Closer Look
One of the best Camp Chef Woodwind grills is the Camp Chef Woodwind WiFi 24 with Sidekick. This grill comes with incredible features that are visually attractive, functionally helpful, and suitable for several cooking styles.
Most notably, the Woodwind WiFi Pellet Grill comes with a number of slide and grill technology. With this grill, you can freely slide the heat deflector from the firepot. This will allow you to control the flame and actually experience direct heat grilling, which you typically can't achieve on most pellet grills.
Like the SmokePro DLX, the Woodwind SG24 Pellet Grill also comes with a lot of cooking space. In fact, this smoker comes with a total of 800 square inches of cooking space because of its added rack on the top of the chamber, which is nearly twice the amount of the SmokePro.
Another great feature of the Woodwind WiFi is the hopper. This hopper has a 22 lb. pellet capacity, which will allow your grill to hold as many pellets as possible. You will even be able to see how many pellets you have because of the front window.
The Woodwind WiFi Pellet Grill also comes with a number of helpful features to make your grilling experience more enjoyable and user friendly. Notably, it comes with an ash cup clean out that will allow you to easily eliminate ashes from the firepots.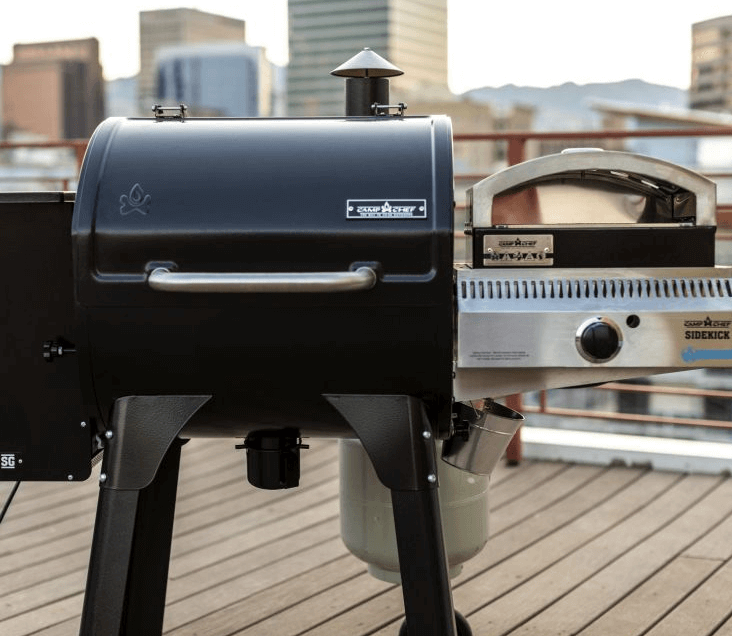 The Woodwind SG24 Pellet Grill Comes with a digital controller as well that is intuitive and super easy to use.  You can set your grill's temperature and smoke level in about 10 seconds to get your cook started.
The grill also connects to bluetooth and WiFi (hence the name), so you're actually able to control all aspects of your cook from a smartphone app too.
The thing that really takes this grill over the top is the Sidekick attachment.  Where most grills have a simple side shelf, this one actually has a mounted cast aluminum, high powered burner that you fuel with a propane tank – it essentially makes this grill a pellet/gas combination grill.
Camp Chef also has created a full line of accessories that are compatible with this burner:
You can simply use the burner to boil a large pot
Griddle attachment allows you to make breakfast or sauté veggies
Sear box attachment allows you to sear or grill at up to 750°F
Pizza oven attachment converts Sidekick to allow you to make artisan style pizzas right there on your pellet grill
It's easy to see why this grill is so exciting – there's really nothing you can't accomplish on this thing.
Pros
Advanced slide and grill technology
A lot of cooking space
Large pellet capacity
Easy ash cup cleanout
Sear box, pizza oven, flat top grill attachments
Digital controller
WiFi and bluetooth connectivity
Cons
Price is a couple of hundred bucks higher than SmokePro
Final Verdict
The Woodwind WiFi Pellet Grill is a great option if you need maximum cooking space and large pellet capacity. It's also absolutely loaded with extra features to really give that luxury feel to your outdoor kitchen.  If you have the extra coin it's well worth every penny.
Other Woodwind Grill Models
Here are some other Camp Chef Woodwind models to look at:
Woodwind WIFI with Sear Box
Woodwind WIFI 36 with Sear Box
Final Verdict: SmokePro vs Woodwind
Overall, both the Camp Chef SmokePro and Woodwind WiFi Pellet Grills are great options for roasting, smoking, barbecuing, and grilling. Both grill lines are designed with durable materials that are intended to last many years.
With that being said, you may want one model over another based on individual features. More specifically, you might want to choose one option over the other based on price or function. Let's take a look at when you would prefer a SmokePro over a Woodwind and vice versa.
Price
Based on price alone, you would probably want a SmokePro model over a Woodwind model. Generally speaking, the SmokePro grills run a couple of hundred dollars cheaper all in than Woodwind grills.
Function
You may also want to choose one model over the other based on your intended function for the grill.
When it comes to the base functionality of grilling and smoking, both the Woodwind and SmokePro pellet grills are fantastic and I wouldn't say one is necessarily better than the other.
When it comes to the extras though, the Woodwind takes the cake – and that may or may not be important to you.  With a Woodwind you are potentially getting a grill, smoker, flat top grill, and pizza oven all in one.
Why Should I Choose Camp Chef?
There are several reasons why you should choose Camp Chef over other pellet grill brands. Most notably, Camp Chef pellet grills reach over 500 degrees Fahrenheit, which is much higher than other pellet grills on the market.
Additionally, most of the Camp Chef grills are just generally well made and durable.  They're also effecient users of fuel, so you won't have to blow through your wood pellets on only a few cooks.
If you want a more detailed comparison of Camp Chef pellet grills vs other popular brands, check out the below resources next:
[optin-monster slug="tnxx7wq84kenca3q0jgu"]
Final Thoughts
Overall, Camp Chef grills are some of the best grills on the market – regardless of grill type. They are extremely durable and designed so that they can fulfill a number of cooking and grilling purposes. Even though these grills are a little bit more expensive than other brands, you should view these grills as an investment since they are more durable and functional than other grills.
The two most notable Camp Chef grill lines are the SmokePro and the Woodwind series. Both of these are up to the exquisite standard of Camp Chef, meaning that they are long-lasting and user-friendly.
At the end of the day, you really can't go wrong with either one of these options.  It's just a matter of price and what you're looking for out of the extras.
Which one did you end up with?  We'd love to hear from you in the comments section below.