This content contains affiliate links.  If you make a purchase after clicking a link on this page, we might receive a commission at no cost to you.
Grilling gives us the opportunity to unlock wonderful flavors while enjoying the outdoors. In fact, no summer is complete without enjoying at least one BBQ party with friends and family.
However, while grilling might be a great experience, finding your first grill can be overwhelming. There is an incredibly wide range of grills on the market, each one coming with its own unique features that suit certain types of grillers.
This enormous range of options can make it extremely difficult for beginners to find the grill that will help them learn the tricks of the trade easily. To make things easier, we want to help beginners find the best grill.
To help, we've put this resource together which highlights the very best grills that suit beginners. We will look at the different purposes each grill has and why they suit beginners.
At the end of the article, we've put together information to help you understand all of the different grill types and which is best suited for your needs!
Best Grills For Beginners
Weber Spirit II E-310 Gas Grill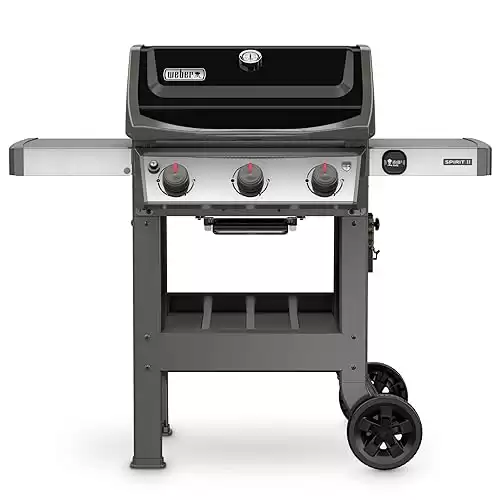 When it comes to cooking consistently good food with little effort, the Weber Spirit II Gas Grills are hard to beat.
This grill is one of Weber's most popular gas grills and is available in either a propane or natural gas fuel configuration.
Offering grillers a whopping 529 sq inches of cooking space, this gas powered grill is sure to meet all your barbecuing needs without making things too tricky or complicated.
Everything you need to control heat evenly throughout the grill can be found on the front of the unit. It is here you will find simple, yet effective dials that will help you turn the heat on immediately.
When cooking your food, the porcelain-enameled cast-iron cooking grates come in particularly useful. The thin side of the grate is perfect for delicate foods like fish, while the thicker side is better for searing meats.
While the overall performance and usability of the grill is great, we most love the additional features the grill comes with.
To make barbecuing much easier, Weber has equipped this grill with two foldable side tables where you can prep and hold food. Convenient hooks are also included to hang your utensils from.
Weber is one of the most well known grill brands in the world and for good reason – they've made high quality products for decades. If you're looking for a beginner gas grill, to be honest anything in their Spirit or Genesis line would be a great choice.
Pros:
Awesome features – This Weber grill comes with some great features.
Even heat distribution – An even heat distribution across the grill is guaranteed.
Easy-to-use – The grill can be easily operated by someone with little to no grilling experience.
Cons:
Not the easiest assembly – The only downside to this grill is that it takes a while to assemble.
Also available at: Weber.com
Camp Chef SmokePro DLX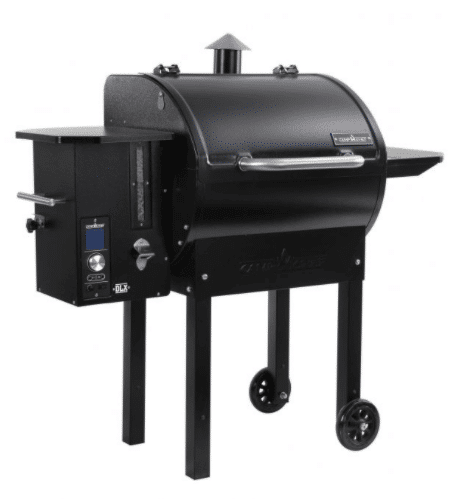 The next grill on our list is a type of pellet grill from Camp Chef. Pellet grills are versatile and very convenient, as they smolder wood pellets to heat and flavor your food.
An important distinction with this grill is that it actually functions as a smoker too – this model in particular also appears on our list of the best smokers for beginners.
This pellet grill from Camp Chef is ideal for beginners because it is reasonably priced and very high-quality.
While the grill is only medium-sized, it has a huge cooking surface of 811 square inches. This includes a 382-square-inch smoking area at the top of the smoker and a 429-square-inch-lower rack.
Thanks to this large cooking area, you could easily smoke a brisket and two chickens at the same time while enjoying beers with family and friends.
To help you control the temperature of the grill, Camp Chef has included a digital PID controller.
This controller lets the user quickly adjust the temperature. You can adjust the temperature between 160 and 500 °F. You can even set a preset temperature if you wish.
The grill also features Slide and Grill Technology, so you can operate indirect smoking mode to smoke meats as you use direct flames to sear your steaks.
All of these features are great, but for us, we were most excited by the automatic auger this grill has. The automatic auger will supply the grill with pellets for you, making your life much easier.
Pros:
Awesome features – This grill is packed with useful features.
Huge cooking surface – All your grilling and smoking needs will be met.
Smart technology – This grill comes with some of the latest grilling technology built-in.
Cons:
Tough to clean – Cleaning the excess pellets out can be tricky.
Char-Broil TRU-Infrared 2-Burner Propane Grill
Made by Char-Broil which has a big reputation for producing high-quality, high-performance grills, the TRU-Infrared 2-Burner grill has a range of useful features that make grilling much easier.
For starters, the Char-Broil's infrared grilling system prevents flare-ups and guarantees an even temperature across the cooking surface.
This even cooking temperature ensures your food cooks perfectly, unlocking all those juicy flavors in the process.
Thanks to the 16,000 BTUs spread across the grill and two stainless steel burners, we have 310 square inches of cooking space to use.
The grill even comes with a 95-square-inch warming rack. This makes it much easier to organize your food.
Another great feature this grill comes with is an easy-to-start ignition system. By simply pressing one button, the grill will start up.
When we reviewed this Char-Broil grill, we also loved the foldable shelves that give us plenty of space to prep food or place our tools.
Pros:
Easy to start up – The ignition button will help you quickly get the grill going.
Neat design – This Char-Broil grill looks as good as it performs.
Even heat throughout – The TRU-Infrared system ensures even cooking across the grill.
Cons:
Requires thorough grate cleaning – You will have to carry out extensive grate cleaning with this grill.
Also available at: Charbroil.com
Char-Griller Akorn Kamado Charcoal Grill
Kamado grills are usually more expensive than traditional charcoal grills – you may have heard of names like Kamado Joe and Big Green Egg, which are more expensive ceramic kamado grills.
However, the Akorn Kamado Charcoal Grill from Char-Griller is an exception to the typical high prices of kamados.
Available at a great price, this Kamado grill is a good option if you're looking for a more affordable grill before you move on to a top-of-the-range, expensive one.
This grill provides beginners with a grill that is easy to use, reliable, and effective when it comes to making the best-grilled food.
Only small in size, this portable grill has a solid 22 gauge steel design that features durable cast-iron grates.
To guarantee even more durability, the grill has a porcelain-coated interior made from steel and a powder-coated finish on the outside.
In terms of cooking ability, this Char-Griller grill has plenty of options. With 314 sq inches of cooking space and a 133 sq inch warming rack, you have more than enough space to cook your food.
When we took a closer look at the grill's cooking ability, we were pleased with the heat distribution. With a temperature range of 200 to 700 °F, you can cook food nice and slow or sear it quickly, with little effort on your part.
Pros:
Durable – This grill has a solid steel design.
Versatile – You can cook food in many ways using the Akorn Kamado grill.
Great temperature range – This grill has a temperature range of 200 to 700 °F.
Cons:
Not many accessories – It would be nice if this grill came with smoking accessories.
Also available at: Chargriller.com
Coleman Roadtrip 225 Portable Stand-Up Propane Grill
The next grill on our list is perfect for any beginners who don't want an oversized grill to take up space in their yard. It is also a good option for anybody looking to grill while away camping with the family.
Featuring a smart collapsible design, this Coleman grill can easily be stored away until the next time you want to grill or placed in the trunk of your vehicle ready for your vacation.
Of course, this portability feature leads to a smaller cooking surface that might not suit larger cookouts, but if you're only just getting started with grilling, this could be ideal.
With a cooking surface that offers 285 square feet of grilling space, push-button ignition, and two adjustable burners, you can easily operate the grill without becoming overwhelmed with everything happening at once.
Despite its size, the grill still has an impressive 20,000 BTU of heat. This is more than enough to barbecue, grill, and sear your meats.
Another great feature this grill comes with is interchangeable cooktops. You can effortlessly change between the traditional grates and a griddle to suit the type of cooking you're going for.
These grates are made out of reliable cast iron.
Pros:
Portable – This grill can be taken away on vacation or stored away in your garage easily.
Easy-to-use – You will find this grill very easy to use.
Interchangeable surfaces – Prepare a variety of foods thanks to the interchangeable grilling surfaces.
Cons:
Not suited to larger cookouts – This grill isn't big enough for larger cookouts.
Also available at: Coleman.com
George Foreman Indoor/Outdoor Grill
While the George Foreman Indoor/Outdoor Grill might not be for everyone, beginners, who want to get into grilling but only live in small apartment complexes, will love it.
Designed to give anyone the opportunity to have a more authentic grilling experience, this grill from George Foreman is great for smaller cookouts or quick grilling sessions in the backyard.
The circular design of the grill is perfect for cooking hot dogs and burgers.
As it runs off electricity and not gas or charcoal, you can use this grill indoors easily. This might come in useful when grilling food on wet days.
Despite its small size, the grill still offers a cooking space of 240 square inches. This is enough to cook a small BBQ.
In terms of usability, this grill couldn't be any easier to use. Thanks to the 5 temperature control settings and nonstick coating that covers the cooking surface, you can precisely set the grill temperature and cook easily without any food sticking to the grill.
One feature we loved with this grill is the removable stand. This makes it even easier for us to set the grill up in the home, whether it be on a tabletop, or standing on a balcony.
Pros:
Straightforward to use – Operating this grill is extremely easy.
Good heat control – 5 temperature settings make it a lot easier to control the heat.
Removable stand – Cook anywhere you see fit.
Cons:
No smokey flavors – Sadly, you won't experience those lovely smoky flavors with this grill.
Also available at: Georgeforemancooking.com
Weber Original Kettle Premium Charcoal Grill
The final grill on our list of grills for beginners is the Weber Original Kettle Grill. This grill makes it onto our list because it is iconic in the grilling industry and adored by many.
It also makes the list because it represents incredibly good value for money.
Powered by charcoal, this sturdy grill features an easy-to-use ashtray that can be quickly refilled, so you can continue cooking for longer periods of time.
This is particularly useful when it comes to grilling on a summer's afternoon or when smoking your meats for a longer period of time.
While this is pretty great, the grill comes with many more features that make grilling a lot easier for beginners.
For example, the grill has a One-Touch cleaning system, a porcelain-enameled lid and bowl that helps retain heat, a lid hook so that the lid can be removed safely, and a built-in thermometer lid, so users can easily monitor the temperature across the grill.
When we took a much closer look at the Weber Original Kettle, we were generally impressed with the product on a whole, however, we really liked just how easy the grill is to set up, operate, clean, and move around the backyard.
The only downside to the grill is that it doesn't come with much storage space to hold other cooking utensils and food.
Pros:
Reliable – This grill is durable and reliable, meeting your grilling needs for years to come.
Easy-to-use – Keeping the heat going as you cook is very easy.
Affordable – The Weber Original Kettle grill is available at a very reasonable price.
Cons:
Lack of under-grill storage – The only let down with this grill is a lack of storage space for food and utensils.
Also available at: Weber.com
Best Grill for Beginners – Buyer's Guide
Choosing the best grill isn't all about looking for the grill that looks the nicest and has the biggest cooking surface. Instead, you need to consider a number of important factors that will impact the type of grill you need.
To show you what you need to take into account, and help you make a more appropriate final decision, we've put together this buyer's guide.
In this buyer's guide, you'll find information regarding the most important things to consider when picking the right grill. Take these things into consideration if you want to avoid any buyer's regret at a later date.
The Type Of Grill
One of, if not the most important, things you need to think about when buying a grill is how the grill is powered.
Generally speaking, gas and charcoal grills are the most popular options, but pellet, kamado, and electric grills are all good options too.
The reason you need to consider which type of grill you need is that they all vary in terms of how easy they are to operate, how quickly they heat up, how affordable they are, and how they affect the flavor of the meat.
To give you a better understanding of each type of grill, below you will find details about each one.
Gas Grill
Gas grills are the most commonly used type of grill. They are brilliant because you can turn the burner knobs quickly and effectively control the cooking temperature within the grill.
They also come with a super handy push-button ignition that starts the grill in a matter of seconds. This ensures rapid heat and a much easier clean at the end of your cookout as you have no charcoal or pellets to clean out.
This type of grill is definitely the easiest to use, but you will need a propane or gas tank to operate it.
Charcoal Grill
Charcoal grills are also very popular, but they do require more effort and time.
To light your charcoal grill, you will need lump charcoal or briquettes. This process will take longer as the grill won't heat up or cool down as fast.
However, using a charcoal grill will give your meats a more robust, smokey flavor than any gas grill ever will.
Note that kamado/egg style cookers fit into this category since they are heated with charcoal.
Pellet Grill
A pellet grill uses hardwood pellets made from wood scraps to heat up the grill.
This type of grill hasn't always been popular as they can be harder to maintain and clean. However, they are currently growing quickly in popularity. This is because the pellets give food a beautiful natural woody flavor.
Electric Grill
If you want something quick and easy to use, electric grills are a good choice.
The beauty of these types of grill is that they can all be used indoors or outdoors. They usually don't have very big cooking surfaces but are capable of holding burgers, steaks, and hot dogs at the same time.
Kamado Grill
Charcoal is used to heat kamado grills. They typically have thicker walls than the more traditional grills.
Thanks to the thicker walls a kamado grill has, the heat inside can reach levels as high as those found in a pizza oven. They are better suited to individuals that want to smoke their food.
Cooking Surface Size
You will need to spend time thinking about the size of grill you need. While it is great to have a larger cooking surface, it isn't always necessary.
If you only plan on grilling a few burgers and hot dogs for your family during the summer, you don't need a grill with an extremely large cooking surface. In fact, a cooking surface of 240 square inches will be more than enough.
On the other hand, if you plan on getting serious with your grilling, hoping to host regular BBQ parties, you are going to need much more space.
You might want a grill with multiple racks that can hold different types of food. This could lead to you needing 400+ square inches of cooking space.
Really bear this in mind when buying your grill. Most products will list out a burger count or some other metric to let you know how much food you can cook at once.
Durability
You are going to want to use your grill for many years, therefore, you have to find one that is built to last.
Thankfully, most grills are made to last, so we don't have too much to worry about. However, there are extra features we can look out for that guarantee durability and reliability.
Grills made from strong stainless steel and cast iron materials are sure to stand up to constant heat and the pressures of time. Grills that have porcelain coating can also be expected to last longer and offer reliable and durable results.
On a similar note, pay attention to the warranty length of your grill. Ideally, the warranty should be at least 3 years or more.
Additional Features
Additional features are always nice, so why not keep an eye out for them when looking for your grill. While additional features might make a grill more expensive, if you have a big enough budget they are well worth investing in.
Features such as hanging hooks and foldable side trays only enhance the grilling experience, making it much easier and enjoyable for you as you grill.
If you're a beginner, these features can come in even more useful because at the start of the grilling experience any extra help is greatly appreciated.
Frequently Asked Questions
Which Type Of Grill Is The Best?
When it comes to which type of grill is the best, it very much comes down to your personal preferences and what you want from a grill.
If you're simply looking for an effective grill that cooks food quickly, a gas or electric grill are your best options.
However, gas and electric grills don't give us any smokey, natural flavors. If it's authentic BBQ flavors you seek, you'd be much better off choosing a charcoal or pellet grill.
What Type Of Grill Suits Beginners Best?
In our opinion, a gas grill is the best option for beginners. The reason we believe this is down to the fact that gas grills are so much easier to start up, operate, and clean when you've finished grilling.
We see them as a good entry point into grilling and a good place to start your journey. When you've got used to grilling, you can then start to think about using a different style of grill.
Are Charcoal Grills Worth It?
Yes, charcoal grills are totally worth it. Charcoal burns a lot hotter than gas and gives food that lovely smokey flavor we all look for when grilling BBQ food.
You can also easily control the heat in a charcoal grill by leaving areas free of any briquettes. This makes things a lot easier when moving meat to one side to keep warm as you cook the rest of the food.
Final Thoughts
Owning a high-quality grill is an excellent way to cook delicious, juicy food while enjoying the summer.
Preparing different styles of food gives you and your family the opportunity to not only enjoy new ways of eating food, but also enjoy some pretty entertaining pool and BBQ parties.
Beginners trying to find their first grill often struggle as there are far too many grills on the market to choose from, most of which are quite technical and designed for more experienced grillers.
However, there are options out there for beginners, it's just a case of finding them.
Luckily for you, in this article we have shown you 7 of the very best beginner grills on the market and what they offer. Whether you want to quickly sear a steak or slowly smoke a brisket, there is an option on our list for you.
While the options we have outlined may all differ in terms of style, features, and cooking surface size, they all cook meats wonderfully well.
Now you have our list and buyer's guide, take your time to work out what you're looking for. You should then be able to narrow down your options and find the grill that suits you best.